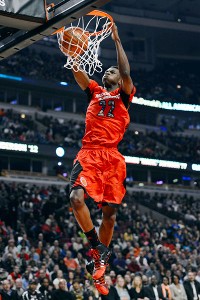 The tank is in for the loaded 2014 NBA Draft.
Teams like the Philadelphia 76ers and Boston Celtics have traded away star players and are rebuilding with youth. Because the best way to facilitate a shot at the lottery isn't to actually throw games, but to tank the roster. Other franchises like the Charlotte Bobcats, Orlando Magic, New Orleans Pelicans and Phoenix Suns will likely continue to struggle — putting them
in the mix for the stacked 2014 Draft that could include Andrew Wiggins, Julius Randle, Aaron Gordon, Jabari Parker, Marcus Smart and Andrew and
Aaron Harrison.
"It's a big prize," one veteran NBA scout said of next year's draft. "The soft tank is in, going young and losing. Four or five teams might look at it, two or three will do it." Count the Sixers and Celtics as two teams that could be in the mix for the 25 percent chance to land Wiggins, the presumed No. 1 pick from Kansas. The Sixers added some nice young pieces in Thursday's draft in Kentucky shot-blocker 
Nerlens Noel,
Syracuse point guard
Michael Carter-Williams
and
Iranian rebounder
Arsalan Kazemi
of Oregon, but dealt away stud point guard
Jrue Holiday,
all but guaranteeing several years of rebuilding. "The Sixers are trying to prove that they are smarter than everyone by tricking people into believing trading a 22-year-old All-Star point guard for an injured, undersized  five with an attitude problem and a protected pick that is out of Wiggins' range is a good idea," one NBA GM told SNY.tv. The Sixers, of course, put it a little more delicately. "I don't think you'll see us try to do a lot of quick fixes or fill holes immediately that we can fill over time," Sixers GM
Sam Hinkie
told the Philadelphia Inquirer
. "It's not Dr. Doom to say [competing for a title] won't come overnight. The best way to guarantee ourselves a chance to be in the mix long-term is to focus on it with a little longer lens than others might."
Translation: we aren't trying to win in 2013-14. Check back with us a year from now. Or two or three. Meantime, up in Beantown,
Danny Ainge
traded
Kevin Garnett, Paul Pierce and Jason Terry
 to the Brooklyn Nets — who are clearly going for it next season with a roster almost as ancient as the one the Knicks had last season. Ainge is not tanking it to the degree Hinkie is, but the Celtics are clearly taking a longer view going forward "What I'll say about that is I think we're in a much better position than we were when I got here 10 years ago, where we sort of had to do it in pieces and move at a slower pace,"
Ainge told the Boston Herald
. "Our objective is to do it less painful and to do it with more speed, more pace. So I think that we're in better position moving forward right now, and with some of our younger core players, as well." Teams like Charlotte, New Orleans, Orlando and Phoenix will also be in good position for the Wiggins Sweepstakes if they continue to live at the bottom of the NBA standings. And why not? The 6-foot-7 Wiggins figures to be a transcendent NBA player after his one year at Kansas. Just ask Jayhawks coach
Bill Self
, who has sent his share of guys to the league and whose current roster includes not only Wiggins but future NBA players
Joel Embiid
and
Wayne Selden.
"I would be disappointed if by the time he's 24, 25 years old that he doesn't have a chance to be a perennial All-Star," Self told SNY.tv of Wiggins at the draft. "I think it'll happen for him. I think it'll happen fast. He's gotta get stronger, he's gotta tighten some things up. But there's just not too many people anywhere that can do the things athletically [that he can]." Even
Ben McLemore,
who went No. 7 to the Sacramento Kings, recognizes that Wiggins is special. "Even Ben's a freak and Ben's going, 'God, I thought I was athletic.' [Wiggins] is just a phenomenal athlete," Self said. If Wiggins does end up becoming the No. 1 pick as expected,
it will mark the second straight year that a Canadian goes No. 1 overall
. Canuck
Anthony Bennett
was the surprise No. 1 pick of the Cavs. Some team will be dancing with joy a year from now then they land the rights to Wiggins, but the consolation prizes aren't bad, either. Guys like Randle, Gordon, Parker and Andrew Harrison, especially, could be special down the road. So if you're team piles up the losses this season, just remember, brighter days might be found ahead.
**For more stories on Andrew Wiggins, click here.