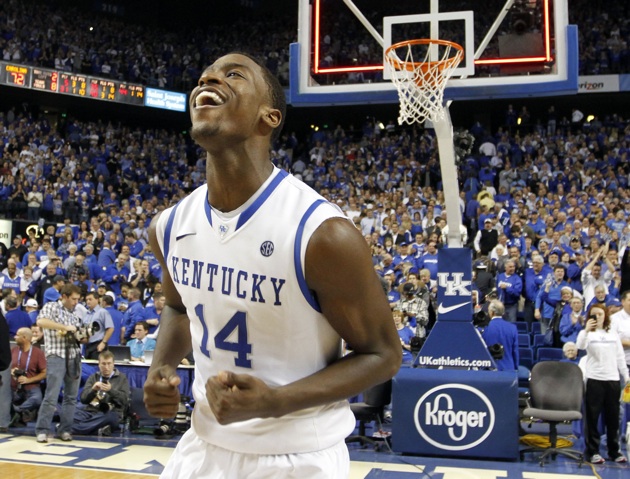 LEXINGTON, Ky. —
With about nine minutes remaining in the first half of the North Carolina-Kentucky game Saturday, 
Michael Kidd-Gilchrist
 drove to the basket and felt a smack on the arm. After suffering from a dislocated left shoulder, he collapsed on the floor of Rupp Arena.
Things did not look good for the former Elizabeth (N.J.) St. Patrick star. Not at all. With more than 24,000 fans looking down at the injured Kentucky freshman, he clutched his shoulder in obvious pain. "Man, it was very painful for me," Gilchrist said. "Oh, to anybody it's painful." Gilchrist calmly made his way to the Kentucky bench and popped his own shoulder back into the socket, just as he had done several times before in high school. About two minutes later, as if nothing had happened, Gilchrist returned to action and scored two more layups en route to a double-double of 17 points and 11 rebounds as No. 1 Kentucky fended off No. 5 North Carolina, 73-72, thanks to a last-second block by 6-foot-10 freshman
Anthony Davis
on a jumper by 6-11 
John Henson.
"I just got in a zone, and just kept on attacking," Gilchrist said. "And that's what I do best, attack the rim. And that's what I was doing." In the biggest college game of the year, it was a kid from Somerdale, N.J. and another kid from Queens, N.Y.,
Doron Lamb,
who had as big an impact as anybody. The duo scored eight of Kentucky's final 10 points in the game, and Lamb scored 12 of his 14 points in the second half.
"Lamb and [
Darius] Miller
 and Gilchrist were reallly a focus for them second half," said Carolina coach
 Roy Williams.
"All three of those kids really hurt us. Gilchrist taking the ball to the basket and rebounding it. And Lamb making two shots back-to-back." It was Lamb on Friday who boldly stated that Kentucky was "way more talented" and predicted, "We win." After being moved to the point, Lamb, the former Brooklyn Bishop Loughlin and Oak Hill Academy star, hit back-to-back 3-pointers in the final six minutes of the second half, turning a 63-62 Kentucky lead into a 69-64 advantage. He finished with 14 points. "He hit a couple layups, he hit a couple 3's," said Kentucky coach
John Calipari.
"That one in the corner was a huge shot, and he knocked it down." Before the Davis block, it was Gilchrist hitting two clutch foul shots with 1:33 left to give Kentucky a 73-69 lead. "Michael was unbelievable," Calipari said. "He is unbelievable. He is the greatest kid. "If we need a free throw late in the game, I'm giving him the ball and letting him shoot because he will not miss it.. He will make a free throw late because he's got that kind of courage." Gilchrist was playing against his old St. Patrick teammate
Dexter Strickland
, with whom he won the 2009 New Jersey Tournament of Champions. The two are friends, Gilchrist having stayed with Strickland on his initial visit to the tiny Catholic school, but on this day they were rivals. "Oh, Mike very played well," Strickland told SNY.tv. "He hit a couple shots, got to the rack, got fouled, and ones. "Doron hit two big shots at the end. They're great players, everybody can see that." Despite the huge win on a national stage, Gilchrist said this wasn't even the biggest game of his life. That would be the unofficial national championship game last March at Rutgers in which Gilchrist and St. Patrick, undefeated and No. 1 in the nation, lost to St. Anthony in the New Jersey state tournament. Gilchrist did not put on his best performance in that game, and a crucial block by
Kyle Anderson
, now signed with UCLA, turned the tide. A year later, Gilchrist is on the No. 1 team in the nation again. This time at the college level. And he wants to finish his year with a championship "You know me," Gilchrist said. "For the whole school, I just want to bring that joy back. I just want to get to March Madness. I can't wait for it, man. It need to hurry up." Gilchrist's performance was especially impressive considering he managed just 5 points in Thursday night's 81-59 rout of St. John's. Earlier in the week, Calipari said Gilchrist sometimes gets "so hyped up that we almost have to calm him down." But in this game, Gilchrist said he felt uniquely calm. And that turned out to be great news for Kentucky and Big Blue Nation. The intriguing performance had NBA Draft experts like ESPN's
Chad Ford
wondering just how high Gilchrist's ceiling is. "I think he's a lottery pick," Ford told SNY.tv. "The question is, if he can really get it going offensively, how high can a player like that go?" ***