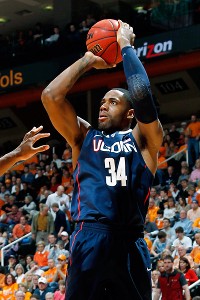 UConn power forward
Alex Oriakhi
will spend his final year of eligibility at Missouri.
He will be eligible right away because UConn is banned from the postseason for the 2012-13 season. "Missouri needs a center, and I'm going to be the center," he told the Kansas City Star. "It's a perfect match." Oriakhi visited Missouri beginning Friday and chose to reunite with his former BABC teammate
, Phil Pressey. 
"This is where I wanted to go from the beginning. It was just a matter of me visiting," Oriakhi told the Star. "We went right to the gym (Thursday night)," Oriakhi added. "A lot of these guys, from what I've seen, they're all workhorses, and they sleep in the gym. I want to be a part of a team like that." Oriakhi was to have visited Kentucky next weekend and also considered North Carolina. Now he's done to Missouri and will team in the frontcourt with
Lawrence Bowers
in what will be an imposing two-some. The Tigers also return Pressey and fellow guards
Michael Dixon
and
Keion Bell.
A key contributor on the 2011 UConn NCAA championship team, Oriakhi never got comfortable playing alongside
 Andre Drummond
 and often became the whipping boy for coach 
Jim Calhoun. 
After averaging 9.6 points and 8.7 rebounds in 29.1 minutes as a sophomore, he averaged 6.7 points and 4.8 rebounds in 21.5 minutes this year "We're very excited to add a talented and proven player like Alex to our program," Tigers coach
Frank Haith
said in a statement. "Addressing our front-court depth has been a major emphasis of ours for this next year, and when you add Alex to a group of newcomers including 
Stefan Jankovic
, 
Ryan Rosburg
 and 
Tony Criswell
, we are definitely heading the right direction.
"Alex is a very hard worker, he's somebody who we expect to fit into our program's culture right away. He will do whatever he's asked to help the team, and he can impact a game any number of ways, whether it's scoring, rebounding or defending." Missouri has one scholarship remaining and another one possible, a source close to the staff told SNY.tv. The news was first reported by CBSSports.com. Photo: Getty Images