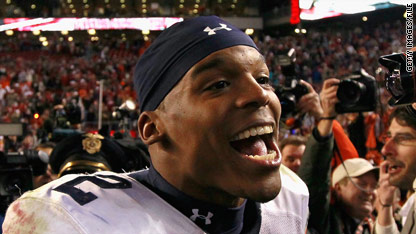 After all that,
Cam Newton
was suspended for just one day.
The NCAA announced Wednesday that after a one-day suspension, the Auburn football star had been reinstated and is "immediately eligible to compete." The NCAA said that Newton's father,
Rev. Cecil Newton
, and another unnamed person "worked together to actively market the student-athlete as a part of a pay-for-play scenario in return for Newton's commitment to attend college and play football." Auburn has limited the access Newton's father has to the athletics program and Mississippi State has disassociated the involved individual. "The conduct of Cam Newton's father and the involved individual is unacceptable and has no place in the SEC or in intercollegiate athletics," said
Mike Slive,
Southeastern Conference Commissioner. "The actions taken by Auburn University and Mississippi State University make it clear this behavior will not be tolerated in the SEC." "Our members have established rules for a fair and equal recruitment of student-athletes, as well as to promote integrity in the recruiting process," said
Kevin Lennon
, NCAA vice president for academic and membership affairs. "In determining how a violation impacts a student-athlete's eligibility, we must consider the young person's responsibility. Based on the information available to the reinstatement staff at this time, we do not have sufficient evidence that Cam Newton or anyone from Auburn was aware of this activity, which led to his reinstatement. From a student-athlete reinstatement perspective, Auburn University met its obligation under NCAA bylaw 14.11.1. Under this threshold, the student-athlete has not participated while ineligible." "We are pleased that the NCAA has agreed with our position that Cam Newton has been and continues to be eligible to play football at Auburn University," Auburn AD 
Jay Jacobs
said.  "We appreciate the diligence and professionalism of the NCAA and its handling of this matter. "
And like ZAGS on Facebook.