NEW YORK
— It was a big night Thursday for two old friends and teammates from St. Benedict's Prep in Newark.
Lance Thomas
scored 8 points and grabbed 3 rebounds to help No. 10 Duke beat Southern Illinois, 83-58, in the 2K Sports Classic benefiting Coaches vs. Cancer at Madison Square Garden. Duke will meet Michigan in tonight's final (ESPN2). Down in Puerto Rico,
Eugene Harvey
, Thomas' old point guard at St. Benedict's, dropped 16 points, 5 rebounds and 5 assists as Seton Hall stunned No. 19 USC 63-61 in the Puerto Rico Tip-off. The Pirates will face No. 12 Memphis in tonight's semifinals (ESPNU). "He's obviously doing work where he's at," Thomas said at Madison Square Garden when told of Harvey's night. "He's a phenomenal guy. He's going to be good regardless."
Flash back to the spring of 2006. Both Harvey and Thomas were being recruited by a number of schools, Thomas by Rutgers and Duke, Harvey by Rutgers and Seton Hall.
When Thomas woke up on the day he was to announce his college choice in May of 2006, he wasn't sure what he would tell everyone in a press conference scheduled for that afternoon. Duke or Rutgers? Rutgers or Duke? "I did not [know]," Thomas said. "I did not know where I was going to go." As reporters assembled in a conference room at St. Benedict's, Thomas shot baskets in the school gym while his mother waited in a nearby office. "I was crushed," Thomas recalled. "It was a really big decision here. When I'm on the court I don't think about anything. Working on my game, I'm in the zone. "After I was shooting, I had a level head and I made the right decision….After I found my thoughts together, I met with my mom and my family. We made a decision. Coach
[Dan] Hurley
had my back. He told me to follow my heart." Thomas huddled with Harvey and Hurley in a hallway. Harvey told me last year that it was at that point that Harvey, who had yet to announce, told Thomas he would attend Seton Hall. "[We talked about] where we [were] gonna be for the next four years," Thomas said. "It's a very big decision. It's not something we can just do and if it doesn't work we can just leave. "At that time he was like wherever you go….I committed first. I made my decision and he made his." Thomas was headed to Duke and Harvey to Seton Hall. Who knows how history might have unfolded differently if the two players had come to Rutgers together. "Had Lance Thomas committed to Rutgers, that would have been a signature statement for
Fred Hill's
program," recruiting expert
Tom Konchalski
told me. "Then maybe Eugene Harvey would've gone."
Thomas said he seriously considered Rutgers because Hill had recruited him for a long time. "Coach Hill has been one of the guys who has been in my recruiting process for a long time, even when he was at Villanova," Thomas said. "I felt really close to him. From time to time I would talk to one of the guys on the Rutgers team and tell them to say hello." At times reports surfaced that Thomas might consider transferring. "If you had asked me a month ago, I would have said he's out of there [Duke]," New York Panthers AAU coach
Gary Charles
told me in May 2007. "But Lance has not said anything yet. I'm thinking he changed his mind and doesn't want to leave. "There are specific schools that would take [Thomas] in a heartbeat," Charles said. "All you have to do is go back to the schools that were recruiting him." Still, Thomas says he's happy he stuck it out and doesn't regret his decision. "I don't regret that decision at all," he said.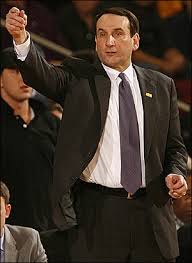 Duke coach
Mike Krzyzewski,
who led
LeBron James, Dwyane Wade
and the USA Basketball Team to the gold medal this summer in Beijing, has nothing but praise these days for Thomas.
"Lance has really done a terrific job for us," Coach K said. "He's been our most energetic player so far this season, and coming off the bench he gives you a lift. "Lance has played well enough [that] I consider him a starter but it's better bringing him off the bench." Said Thomas: "I have no problem coming off the bench. Whatever Coach needs, I'd be a fool not to listen to him. I wouldn't question anything he does. I think my role is even bigger, even not being in the starting five." Duke is now 4-0 heading into tonight's tilt, while Seton Hall and Harvey are 3-0. Thomas is happy to be playing on the big stage at Madison Square Garden and near his hometown of Scotch Plains, N.J. Duke comes back to the area to play Xavier Dec. 20 at the Izod Center and to the Garden Feb. 19 to meet St. John's. "We're all playing really good basketball right now," Thomas said. "It's good to just be so close to home. This year I'm fortunate to actually have a lot of games up here."