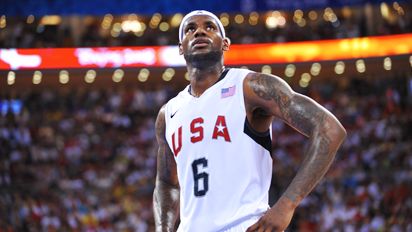 LeBron James
tallied 18 points and 6 rebounds as Team USA routed
Yao Ming
and host China, 101-70, in the Beijing Olympics.
President Bush
took a break from trying his hand at beach volleyball to watch the game.
Dwyane Wade
led Team USA with 19 points.
Kobe Bryant
and
Dwight Howard
scored 13 apiece. Yao tallied 13 for China. "This is what we've been dreaming about," James told
Craig Sager
of NBC Sports. "It it took us three years to finally get it under way. We've been waiting three years for this opportunity and this is our chance to show the world what we've been doing behind closed doors. "This is the biggest stage I've ever been on, by far….I'm happy I can be a big part of it and I'm happy I can help Team USA get a win." Next up for the Americans is a date with Angola Tuesday night. "We're going to take one team and one game at a time," James said. "We'll get ready for Angola on Tuesday." Pete Thamel of the New York Times has a great story today on the
growth of basketball in China and its increasing popularity
.