Happy Birthday to
Jerry Garcia
, who would've been 66 years old Friday.
My son,
James
, wore a baby one-sie with Jerry's picture and we took a photo of him outside in Jerry's honor. Before taking off on a much needed vacation to the Jersey Shore, my wife Jen and I saw the
Deja Vu documentary
, which features
Crosby, Stills, Nash & Young
on their
2006 Freedom of Speech Tour. If you're any kind of a
Neil Young
fan, or if you're interested in seeing the real cost of the Iraq war through the lives of soldiers and their families, we highly recommend it. Sure, they're a bunch of aging, early-60s hippies, but Neil is one of the most influential artists of the last century and this film shows his genius, force of personality and ability to capture historic moments through song. It also shows that, unlike many 60s and 70s bands, Young can constantly re-invent himself to surprise his audience and make them think and feel and debate.
The boys met with some boos, walkouts and middle fingers when they played "Let's Impeach the President" in front of an Atlanta crowd — yet both sides of the war are presented in animated fashion. Speaking of the prolific Mr. Young, he will release the first part of his Archives this fall in a 10-disc Blu-Ray set
covering the period 1963-72
. "It's only coming out on Blu-ray and DVD. There won't be CDs," he said at the Sundance Film Festival. "Technology has caught up to what the concept was in the first place [and] how we're able to actually present it. But there's no doubt it will come out this year."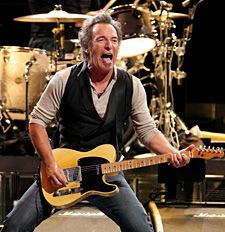 In other Rock news,
Springsteen
played his final Giants Stadium show in front of 55,000 thousand Thursday. We were there Monday and I'm sure the finale was equally brilliant. Here's the setlist:
Summertime Blues Tenth Avenue Freeze-out Radio Nowhere Prove It All Night Two Hearts The Promised Land Spirit in the Night Light of Day Brilliant Disguise Pretty Flamingo Blinded by the Light Cadillac Ranch Candy's Room Night Because the Night She's the One Livin' in the Future Mary's Place Incident on 57th Street The Rising Last to Die Long Walk Home Badlands * * * Jungleland Born to Run Bobby Jean Dancing in the Dark American Land Jersey Girl Rosalita
The Police
are playing their final four shows — EVER — Sunday at PNC in Jersey, Monday and Tuesday at Jones Beach and Thursday at the Garden. I'm tempted to drive up from the beach for PNC just to hear "Roxanne" one more time.
Bobby Weir
and Rat Dog are playing a double bill with
The Allman Brothers Band
Aug. 15 at PNC. The Allmans missed their spring tilt at the BEacon Theater because Gregg was battling hepatitis (aren't all rock stars?), so this will be a chance to see
Derek Trucks
— one of the two or three greatest guitarists walking the planet — and Company in the New York area. Keep on Rockin' in the Free World….