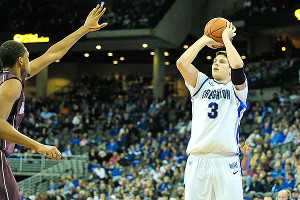 UPDATE 4:50 p.m 3/13/14:
Doug McDermott was the unanimous choice for Big East Player of the Year. He was also named a First-Team All-American by the U.S. Basketblal Writers' Association.**
NEW YORK
— The young man who will be named Big East Player of the Year later today was born in North Dakota, grew up in Iowa, plays college basketball in Nebraska and has never played a single Big East Tournament game inside Madison Square Garden. Yet in the next few days,
Doug McDermott
could burgeon his already historic résumé by  adding a Big East championship ring he can one day tell his kids and grandkids about. "I'm really excited," said McDermott, a lock for Player of the Year honors after averaging  26.5 points and 7.2 rebounds this season. "I think it's an exciting time of the year. As a little kid I always grew up watching the Big East Tournament, so many great games at the Garden there. I just think of certain guys,
Kemba Walker,
and you think of the Syracuse vs. UConn battles and those guys are no longer in the conference but I think it's going to be the start of something special here." A projected NBA lottery pick who has scored more than 3,000 career points, McDermott is 0-1 in his career at the Garden, having lost to St. John's on Feb. 9. But with the jitters of that game out of the way, Dougie McBuckets believes he and his Creighton teammates will be more prepared for this week. Creighton is the No. 2 seed and opens Thursday night against the Georgetown-DePaul winner. "It's unfortunate we lost to St. John's but they were playing really well at the time and were on a hot streak and they're a great team," McDermott said. "So I think it's good that we got our feet wet in the Garden and we get the first-game jitters out of the way. It's everyone's dream to play there, so now that we've gone through there once I feel like we'll be a lot more confident going in there the second time."
Doug McDermott and the Bluejays should have a fairly strong sixth man in New York this week — something they didn't have last time around. "I think we'll have between 3-4,000 fans there," Creighton coach
Greg McDermott
said. "Obviously they're thrilled about  having the opportunity to come and watch us play in the Big East Tournament. I think having that kind of support in that building will be a huge plus for us." McDermott and his teammates are accustomed to playing in the Missouri Valley Conference tournament, which takes place a week earlier. That, in turns, means less turnaround time between the Big East Tournament and the NCAAs, where Creighton is expected to be a 2 or 3 seed. "It's a little bit different timing-wise but I think once we get to New York we're not going to change anything up," Doug said. "Our routine is going to be the same. We always seem to do well in conference tournaments so we've just got to keep that confidence up and get it rolling." Creighton could potentially face top-seeded Villanova or hometown St. John's in the final on Saturday night. Creighton beat Villanova twice this year by a combined 49 points and split two tight games with the Johnnies. "I hope we get to see them again because that means we advance to Saturday," Greg said of a potential third meeting with Villanova. "…We would love the opportunity to play them again simply because it means we'll have an opportunity to play for a championship."
And to add one more line to Doug's résumé.
BIG EAST TOURNAMENT SCHEDULE
Wednesday:
No. 8 Seton Hall vs. No. 9 Butler, 7 p.m., Fox Sports 1
No. 7 Georgetown vs. No. 10 DePaul, 
9:30 p.m., Fox Sports 1
Thursday:
Seton Hall/Butler vs. No. 1 Villanova, noon, Fox Sports 1
No. 4 Providence vs. No. 5 St. John's,
 2:30 p.m., Fox Sports 1
Georgetown/DePaul vs. No. 2 Creighton, 
7 p.m., Fox Sports 1
No. 3 Xavier vs. No. 6 Marquette, 
9:30 p.m., Fox Sports 1
Friday:
Thursday afternoon winners, 7 p.m., Fox Sports 1
Thursday night winners, 
9:30 p.m., Fox Sports 1
Saturday:
Championship Game, 8:30 p.m., Fox Sports 1