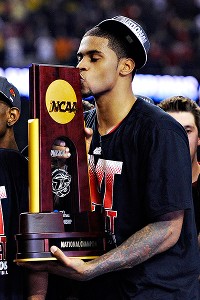 Junior forward
Chane Behanan
could transfer to an ACC school but not an AAC school if he opts to leave, Louisville sports information director Kenny Klein told SNY.tv.
"We are not trying to restrict his schools," Klein said by email. "Coach
[Rick] Pitino
said that on Monday when talking about Chane. At the time, we were uncertain which transfer rules would apply. We would not restrict Chane from an ACC school, but his transfer would be affected under AAC policy. We would amend his release to reflect that as it is simply a misunderstanding to assure what rules prevailed." Louisville is currently in the AAC but joins the ACC next season, so ACC transfer rules don't yet apply to the Cardinals. Earlier Thursday, SNY.tv quoted a letter sent by John C. Carns, Louisville Senior Associate AD for Compliance, that said Behanan could not transfer to either the ACC or the AAC. "In accordance with NCAA Bylaw 13.1.1.3, the University of Louisville grants all institutions with the exception of Atlantic Coast Conference (ACC) member schools permission to contact University of Louisville student athlete Chane Behanan," read the letter, which Klein said has been superceded. Sources said Florida State, Oregon, Arizona, Arizona State, Tennessee, Southern Miss, Northwestern, Utah, Delaware and Iowa State were among the schools that had reached out to Behanan. Several AAC schools also reached out, but Behanan cannot transfer to those institutions. If he waits until the end of this school year to transfer, he would have a full year of eligibility after sitting out next season. "He would be better off staying this year and then sitting out all next year and then have a full year," one coach told SNY.tv.
Louisville coach
Rick Pitino
dismissed Behanan from the team on Dec. 30
. Photo: Getty Images