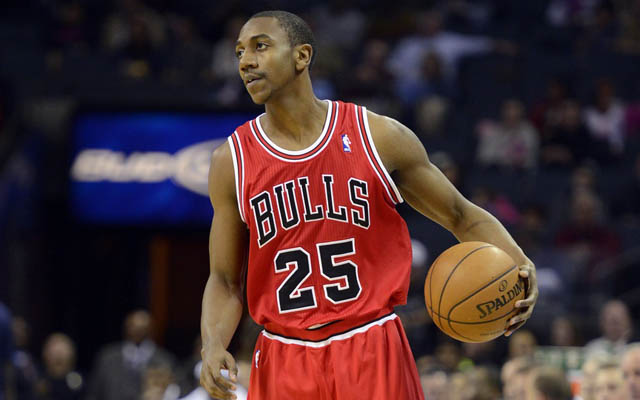 By JOSH NEWMAN
Special to ZAGSBLOG
NEW YORK – 
If Kentucky freshmen
Julius Randle, James Young
 and
Andrew Harrison
all declare for the NBA Draft this spring, it stands to reason all could be taken in or near the lottery and immediately step in and help a team. When high-end freshmen leave for the NBA, that's usually the outcome, but one former Wildcats standout freshman can tell a different story. "It's a difficult process, especially if you're a late pick and going to a team that might already be good and you don't get a chance to play right away,"  
Marquis Teague
told SNY.tv on Wednesday evening before his Chicago Bulls lost to the Knicks, 83-78, at Madison Square Garden. "You've been playing your whole life and then you have to get used to not playing as much or at all. That"s tough to deal with if you've been 'that guy' your whole life. It's a huge adjustment." Those words of wisdom might end up resonating for some of this year's Kentucky freshmen, including 
Aaron Harrison
and
Dakari Johnson
, who are projected as late-first or early-second round picks should they come out in 2014. A 6-foot-2 point guard, Teague averaged 10.0 and 4.9 assists for a Kentucky team that went 38-2 and won the program's eighth national championship and first under head coach
John Calipari
in 2012. A whopping six players off that squad were NBA Draft picks that spring, including fellow-freshmen
Anthony Davis
and
Michael Kidd-Gilchrist,
who were taken with the first two picks by the New Orleans Hornets and Charlotte Bobcats, respectively. Davis and Kidd-Gilchrist have paid dividends for their teams, but Teague has not been so fortunate.
Teague was chosen 29th overall, which meant a guaranteed 4-year contract totaling approximately $7 million, assuming his team option  gets picked up for next season. The problem is Teague was drafted by the Bulls, a veteran team that painted itself as a contender in the Eastern Conference at the time, even without the services of the injured
Derrick Rose.
At the ripe old age of 19 last season, Teague played in just 48 games, averaging just 2.1 points and 1.3 assists per contest. "I have no regrets on anything I've done," Teague said. "I feel like I'm on a good team, I'm developing and I still feel like I made the right decision." Rose is hurt again this season, as is backup point guard
Mike James
, which means Teague has been playing extended minutes at the point for the first time in his career behind
Kirk Hinrich.
After a brief trip to the D-League, he has played at least 17 minutes in each of the last four games, including 20 against the Knicks in which he scored seven points. "I'm just trying to get more comfortable each and every game," Teague said. "I'm trying to progress each game, just learn what my teammates are doing and do whatever it takes to help us win.
Follow Josh Newman on Twitter