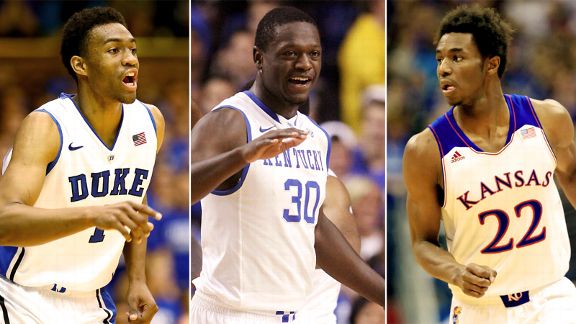 **
This story was referenced on ESPN's PTI, where Michael Wilbon and Tony Kornheiser discuss it at the 9-minute mark. 
Click here
.
**
The way
Jim Boeheim
sees it, none of the heralded freshmen across the American college basketball landscape are worth tanking for. "There's no player that's out there on the horizon that's a
Tim Duncan
or a
LeBron James
," the Hall of Fame Syracuse coach told SNY.tv by phone Thursday. "I've seen all these guys play. I think they're very talented players. They're not that kind of player. They're not transcendent players that are gonna make your franchise into a 10-12-15-year winning franchise because you're there. I don't see that." One NBA executive
told SNY.tv he believed as many as six franchises were tanking
— and that was before the Toronto Raptors dealt
Rudy Gay
in a
move potentially aimed at bringing Canadian Andrew Wiggins back North of the border
. Wiggins,
Jabari Parker, Julius Randle, Joel Embiid and Aaron Gordon
are considered the top freshmen in the nation, and Syracuse and Boeheim will get an up-close look at Parker twice this season in ACC play. Syracuse hosts Duke Feb. 1 at the Carrier Dome and visits Duke Feb. 22. "I think there's a lot of good players, talented players, guys who will be really good NBA players," Boeheim said, "but I'm not sure there's transcendent players there."
**For more stories on Andrew Wiggins, click here.