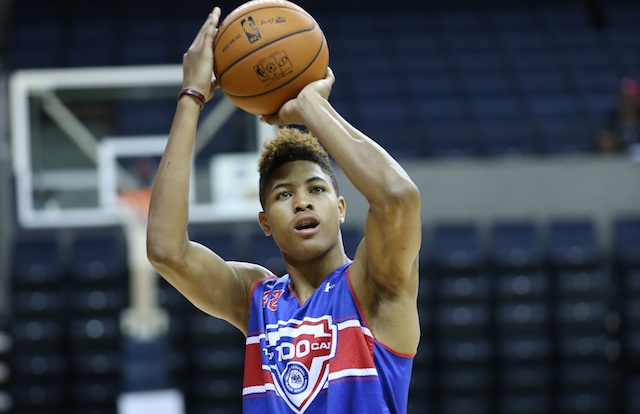 NORTH AUGUSTA, S.C. — Kelly Oubre
played in front of some pretty elite company in his first game at the Peach Jam Thursday morning.
John Calipari
and
Kenny Payne
of Kentucky,
Larry Brown
of SMU,
Roy Williams
of North Carolina,
Kevin Ollie
of UConn and coaches from Kansas, Duke and Louisville were among those watching as the 6-foot-7 Oubre went for 20 points, six rebounds and four assists as Houston Hoops overcame a 40-point outing from
Malik Newman
to beat the Jackson Tigers, 80-67. "I was just trying to do everything that I could to help my team win," said Oubre, who will play at Henderson (Nev.) Findlay Prep next season. "If that meant getting rebounds, getting to the basket, making shots, that's what I was trying to do." After the game, Oubre revealed that he plans to cut his list soon and that he recently picked up an offer from Kentucky during a phone conversation with Calipari (who flew here from the Philadelphia Reebok event Wednesday night). "I started hearing from them about a week ago, two weeks ago, before Peach Jam started," Oubre said. "I talked to Coach Calipari and Coach
Orlando [Antigua
] on the phone, so it was great. They did offer me [to play] shooting guard, three man, it doesn't matter." He added of Kentucky: "[Calipari] just kept it straightforward. He was like, 'If you come to my school, we going to produce you. Only the best come to my school. If you come in and compete, you're going to compete every day.'" Oubre is also considering Louisville and said the recent commitment of guard
JaQuan Lyle
— which gives Louisville three guards in the 2014 class — hasn't slowed his interest in them.
"No, because Coach
[Rick] Pitino i
s still a great guy," he said. "I can see myself thriving in his offense and getting better so nothing has really changed. I plaeyd with JaQuan at Lebron camp and we're pretty cool." He said he has only spoken with Louisville assistant
Kevin Keatts
since Lyle committed, not with Pitino himself. "At Louisville they have a four-guard offense so whenever you're playing you just gonna keep running and gunning, so  no matter how many guards are on the court you still gonna thrive in the offense," he said. "That's what they're telling me." Asked again if the Lyle commitment affected him, he said, "Not really because we don't all play the same position. We all similar type plaeyrs. We all like to run and play. If I do go there I wouldn't see that as a threat." UConn is another option and Ollie is targeting Oubre along with forwards
LeRon Black and Malik Price-Martin
, among others. "Coach Ollie's a great guy," Oubre said. "He thrives in the guard offense. He likes to develop lot of guards in the past so I could see myself excelling in that offense also." Kansas assistant
Norm Roberts
also sat courtside and Oubre is interested in visiting for Late Night in the Phog Oct. 4. "Kansas, they are definitely going to be there in my top [list]," he said. "I love the offense of Coach
[Bill] Self."
Oubre also mentioned North Carolina, UCLA and Florida as schools he's considering.
"I'm going to cut my list down after Peach Jam," he said. "Everything is going to be set after that. I'm going to cut it to about five or six."