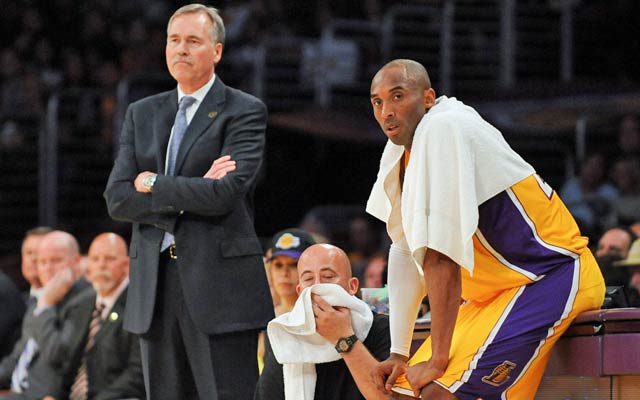 EAST RUTHERFORD, N.J. — Mike D'Antoni
was back home in the New York area this week for the Nets' Draft Combine where he watched 44 NBA hopefuls work out in front of all 30 NBA teams.
After Thursday's workout, D'Antoni confirmed a New York Post report that he won't be part of
Mike Krzyzewski's
staff for Team USA going forward and also discussed the status of Lakers' stars
Kobe Bryant
and
Dwight Howard
, as well his former Knicks' buddy,
Carmelo Anthony.
As for coaching with the Olympic team, D'Antoni said, "Probably not." "It's been an unbelievable experience and I would recommend it for any coach," D'Antoni told SNY.tv exclusively in his first interview since the news broke. "But I kind of ran my course, and happy for it." D'Antoni has worked with Team USA since 2006, helping the team win gold medals in Beijing in 2008 and in London in 2012.
D'Antoni said he was pleased to see Coach K re-up for the next cycle
, which includes the 2014 FIBA World Championship in Madrid and then the 2016 Olympics in Rio de Janeiro. "Oh God, yes," D'Antoni said. "He does a great job." D'Antoni also discussed the future for Bryant, who on Thursday was named to his 11th All-NBA first team and is recovering from a torn Achilles tendon suffered in April. "We'll just see, see how the summer plays out, but Kobe will be fine and he'll be back 100 percent," D'Antoni said. Bryant is expected to miss 6-9 months from the time of the injury, meaning his status for the start of the 2013-14 season is up in the air. Asked if Bryant could be ready to start the season, D'Antoni said, "I don't know that, we'll see, but if anyone can do it, he can do it. We'll see how the summer plays out and get him well and see how it goes."
D'Antoni said he "hopes" that Bryant can be the same player he always has been when he comes back. "With his determination and his brain, he's got a good chance at it," D'Antoni said. "I know he'll be effective and good." As for Howard,
the Los Angeles Daily News recently cited
"a source familiar with Howard's thinking say[ing] he plans to test free agency and has considered the Lakers, Dallas, Houston, Atlanta and Golden State." D'Antoni wasn't able to shine much light on Howard's future. "Dwight, I don't know," he said. "You know, we'll see. Obviously, we can't really talk about it." The Lakers have no first-round pick in next month's NBA Draft and only only the No. 48 pick in the second round. D'Antoni and Lakers GM
Mitch Kupchak
were in New Jersey for the two-day combine, checking out a group of fringe players who hope to get drafted. Asked what additions he would like to see the Lakers make, D'Antoni said, "We'll see. That's Mitch's job and he does a great job and he'll put us in the best possible position to win." The former Knicks coach also watched his old team in the playoffs, where they lost to Indiana in six games. "They played well, they played really well and had a great season," he said. Asked if they have the talent to contend in the East going forward, D'Antoni said, "Yeah, I thought they did this year. A couple things go a little different, you gotta get lucky. But [Knicks GM]
Glen [Grunwald]
does a great job and Woody [Knicks coach
Mike Woodson
] and they put the team together great and they had an unbelievable year, I thought."
D'Antoni said he didn't pay much attention to Anthony's shoulder injury, which he played with for the final 12 games of the season and was revealed to be a tear in his labrum. "Dwight had the same thing," D'Antoni said, "so it happens and every player fights through everything, so he did a great job."