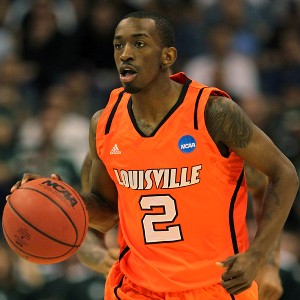 NEW YORK
— Back in his hometown for the Big East Tournament,
Russ Smith
called Archbishop Molloy High School on Thursday morning to touch base.
Then he got the news that broke his heart.
Jack Curran
, the legendary Molloy coach, had passed away earlier Thursday after battling lung and kidney problems. He was 82. "Every time I'm in town, I always love to go back there, communicate with the guys," Smith said of his alma mater after pouring in a game-high 28 points as Louisville advanced to the Big East semifinals against Notre Dame with a 74-55 win over Villanova. "I was giving them a call, calling Coach [
Mike] McCleary
and how is he doing. What's the schedule looking like, and maybe him, Coach, and a few others could make the game. "Then he told me, and I paused for a second. It was really hard for me to take it all in because a guy like Coach, obviously, he's old age, but you just wouldn't think twice of him ever passing. It was really, really hard for me to like just focus ahead and to just put it all together."
Louisville coach
Rick Pitino
, also a native New Yorker, said he told Smith to play the rest of the season in Curran's honor.
"I just told Russ we have to play this tournament and the NCAA for Coach Curran," Pitino said. "Coach Curran really enjoyed coaching Russ, and I really enjoyed coaching Russ, but we both knew what he was all about. So it's very exciting that Russ could have that type of game and honor his coach like that." Said Smith: "I just wanted to win and do anything I could to win. Today was definitely Coach Curran day for me, and it will be the rest of my life."
According to the AP
, Curran's teams won five city championships in basketball and 17 in baseball. No other New York City coach has ever won a title in both sports in the same year. Curran did it four times — 1969, 1973, 1974 and 1987. His record was 972-437 in basketball and 1,708-523 in baseball. Pitino attended Curran's camps and compared him to legendary UCLA coach
John Wooden.
"He had all the great traits of a great leader," Pitino said. "Very humble, great teacher, very wise man. It was always about the players with him. He had a lot of what I witnessed with Coach Wooden. They were very similar personalities. "They were great teachers. Although he was a great basketball and baseball coach, he probably was even a better gym teacher. He was just a great teacher and a great person. Never lost his passion and love. "I don't know how he did it. He led a blessed life, and a lot of people are going to miss him greatly." One of them is Smith, who credits Curran with teaching him life lessons he will never forget. "I'm going to miss him," Smith said. "He was everything to me, and to my mom, my family. He treated everyone with respect. He taught me a lot of things, phrases, quotes, and one of the main ones was the road to success is always under construction, and I'll keep that. I always say that, and I'll always keep that to myself, and I always work around that little quote."
CLINTON VISITS LOUISVILLE LOCKER ROOM
President Bill Clinton
arrived at the Garden in a black Suburban that drove up the ramp and deposited him near the court. He was soon mobbed by well-wishers courtside, where he shook hands, smiled and did an extensive interview with ESPN's Andy Katz. Following the game, Clinton visited Pitino and the Louisville players in the locker room. Pitino seemed to take credit for helping Clinton carry Kentucky in 1996. "He was just telling a lot of stories," Pitino said. "I knew him back at Kentucky, when he came to the University of Kentucky, I was able to introduce him on campus. At that time, Republicans were going to win the state and overturned it, and he got elected by, I think, two percentage points.
"Since that point, we've been very friendly toward each other. He was telling a lot of stories not only about basketball, but Senegal where
Gorgui [Dieng
] is from. He's a walking encyclopedia. It was very enjoyable for the guys." Photos: Daily News / Instagram