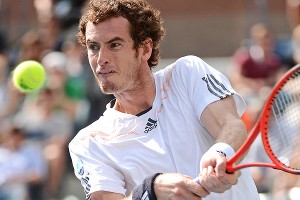 NEW YORK — Andy Murray is sitting pretty to win the first Grand Slam title of his career and possibly become the Player of the Year in men's tennis.
And he has the incompetency of U.S. Open officials to thank for it. Or at least their supremely questionable decision-making.
If Murray does end up winning the Open on Monday afternoon, he and his Scottish compatriot Sean Connery — the original James Bond — should consider sending a case of Scotch to tournament director David Brewer and his colleagues.
Murray beat Tomas Berdych 5-7, 6-2, 6-1, 7-6 (7) in terribly windy and distracting conditions in the semifinals Saturday, but at least he got his match in before the rains came and play was suspended.