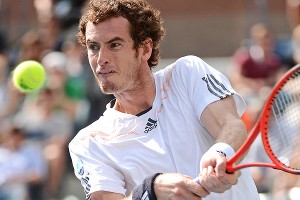 NEW YORK — Andy Murray
is sitting pretty to win the first Grand Slam title of his career and possibly become the Player of the Year in men's tennis.
And he has the incompetency of U.S. Open officials to thank for it. Or at least their supremely questionable decision-making. If Murray does end up winning the Open on Monday afternoon, he and his Scottish compatriot
Sean Connery
 — the origina
l James Bond
— should consider sending a case of Scotch to tournament director
David Brewer
and his colleagues. Murray beat
Tomas Berdych 
5-7, 6-2, 6-1, 7-6 (7) in terribly windy and distracting conditions in the semifinals Saturday, but at least he got his match in before the rains came and play was suspended. The same cannot be said for defending champion
Novak Djokovic
and Spanish upstart
David Ferrer,
whose match was suspended with Ferrer leading 5-2 in the first set. Their match will resume Sunday at 11 a.m., and the winner will have to turn around and play on Monday, the fifth straight year the Open final has been pushed to Monday. The women's final between three-time champion
Serena Williams
and top-seeded
Victoria Azarenka
was pushed from Saturday night to Sunday at 4:30. Murray, the Olympic gold medalist who carries the 76-year-old burden of a nation on his back, will have had a full 48 hours of rest by the time Monday's men's final rolls around. No British man has won a major since
Fred Perry
captured the U.S. Championships in 1936. Amazingly, if Ferrer pulls the upset on Sunday, Murray could theoretically win the Open without ever having to play any member of the Big Three of
Roger Federer, Rafael Nadal
and Djokovic. That trio has combined to win 29 of the last 30 majors.
"Who knows what the right decision was?" Murray said after surviving a wild match with Berdych that saw plastic bags tumble across Arthur Ashe Stadium and the wind knock over the players' chairs on court. "You know, I'm just glad that I was the first match today and got it done. It's been a long day today. I'm just happy I'm through." Everyone in the tri-state area with a television or an Internet connection knew that it was going to rain Saturday afternoon and night. We all knew there was a window of several hours Saturday afternoon in which to play tennis. Yet instead of starting both men's semifinals at the same time Saturday afternoon — Murray/Berdych in Arthur Ashe Stadium and Djokovic/Ferrer in Louis Armstrong Stadium — tournament officials opted to roll the dice and try to put the Djokovic-Ferrer match on after the Murray-Berdych match in Ashe. How'd that decision work out? "Why aren't they playing now?" CBS analyst
John McEnroe
asked during the Murray-Berdych match in reference to Djokovic and Ferrer. "This is rolling the dice pretty big time." Open officials announced during the Murray-Berdych match that the women's final had been postponed until Sunday, yet they never opted to start Djokovic/Ferrer in Louis. "We were told they were planning on canceling the women's final first before they would have split the courts," Murray said. "They were going to try to get the two men's semis played today." Said Brewer:  "It was not too difficult a decision to make. The forecast is for severe weather and we need to give people the time to clear out.
"The good news is that Sunday is going to be beautiful day." The supremely ironic storyline here, of course, is that Murray was on the other side of this exact situation in 2008 ago when he reached his first Grand Slam final against Federer. Federer finished his semifinal match on Saturday, but Murray and Nadal began their match in Armstrong after Federer did and had to finish up on Sunday. Ultimately, Federer won his fifth straight title — and his most recent here — thanks to a full day off on Sunday. Which is what Murray will now enjoy as he pursues his first major. "I was in that position a few years ago, and that was a tough situation to be in obviously," Murray said. "You know, there is people that are there to make those decisions, so you'd obviously need to ask them the reasons behind that." For his part, Berdych, a 6-foot-5 man who had trouble tossing the ball amidst the windy conditions in Ashe, said Open officials should have considered postponing his match with Murray because of the conditions. "Yeah, I think that our sport deserved to have some rule or if the conditions are like that that, you know, you don't play because of the rain," said the man who crushed Federer in the quarterfinals. "We play in Grand Slam in such a big tournament like this one, and especially missing the roof, it's something which should be at least to think about." Murray handled the wind much better than Berdych, finishing with 37 winners against 20 unforced errors while the Czech made 64 unforced errors in the wind against 45 winners.
"Andy was better in this part definitely, and that's why he actually took the win," Berydch said. You had to just feel that karma was blowing Murray's way when Connery and
Sir Alex Ferguson
burst into his press conference and started singing Andy's praises. "Been coming here the last three years to New York, and I explained how Scotland invented the world; today we invented the wind," Ferguson said. "Today they conquered the world," James Bond said. Murray hasn't conquered the world yet. But on Monday he could win his first major to go along with the Olympic gold medal. And that would mean the world to a man who is 0-4 in Grand Slam finals, including the Wimbledon loss to Federer this summer. "Yeah, winning a major is the last thing that I really want to do," Murray said. "Yeah, it means a lot to me. You saw obviously at Wimbledon how much that meant to me. You know, it's obviously not easy to lose another slam final, so I hope this one is a different story." Thanks to David Brewer and U.S. Open officials, it may well work out that way.