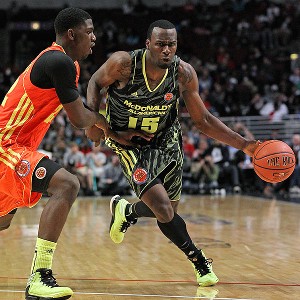 It remains to be seen if the Brooklyn Nets will be any good, but Brooklyn figures to be chock full of strong college basketball games next season.
Beginning in November, the new Barclays Center will host some of the most storied programs in college hoops, including Kentucky, UCLA, Indiana, Maryland, Georgetown, Michigan, St. John's, Notre Dame and West Virginia. (See below for the schedule.). Many of the top freshman in college basketball will be on display, too. When Kentucky faces Maryland Nov. 9, fans can see Kentucky's class of
Nerlens Noel, Archie Goodwin, Willie Cauley and Alex Poythress.
Maryland's class includes
Sam Cassell Jr., Jake Layman
and
Shaq Cleare,
among others. When the Legends Classic comes to Brooklyn Nov. 19-20, UCLA will bring its star-studded recruiting class of
Shabazz Muhammad, Kyle Anderson, Tony Parker
and
Jordan Adams.
Indiana's group of recruits includes
Yogi Ferrell, Jeremy Hollowell, Peter Jurkin, Ron Patterson and Hanner Perea.
And Georgetown's class includes
B.J. Hayes, D'Vauntes Smith-Rivera and Brandon Bolden.
In December, Michigan will bring stud freshman
Mitch McGary
to play against West Virginia, now in the Big 12. St. John's and Seton Hall will both play at Barclays, with the Johnnies taking on traditional rival St. Francis Dec. 15 and Seton Hall meeting NCAA Tournament team LIU a week later, Dec. 22. The Johnnies class features
JaKarr Sampson, Orlando Sanchez, Marco Bourgault and Felix Balamou,
plus transfer
Jamal Branch.
Seton Hall has three transfers eligible next season in
Kyle Smyth, Brian Oliver and Gene Teague
, and hopes to have former Texas guard
Sterling Gibbs
eligible with a hardship waiver. "To play a local school like St. Francis at the new Barclays Center in Brooklyn is a natural fit," said St. John's head coach 
Steve Lavin
. "Some of St. John's most-prolific players and loyal fans throughout our storied history have roots that trace back to the borough of Brooklyn. This game and new venue presents a nice way to pay homage to that dimension of our legacy."
The Barclays will also host the Atlantic 10 Tournament, which will feature, among other teams,
Dan Hurley's
Rhode Island Rams. Hurley has quickly rebuilt Rhody with the additions of transfers
Gillie Biruta
(Rutgers),
Jarelle Reischel
(Rice), 
DeShon "Biggie" Minnis
(Texas Tech), plus recuits
Mike Aaman
and
Jordan Hare.
Beginning in 2013, the A-10 will also feature VCU and Butler, who have two of the hottest young coaching minds in the business in
Shaka Smart
and
Brad Stevens.
SCHEDULE
Nov. 9 — Barclays Center Classic, Barclays Center (Brooklyn)
Kentucky vs. Maryland
Nov. 16-17 — Coaches vs. Cancer, Barclays Center
Teams: BYU, Florida State, Notre Dame and Saint Joseph's
Nov. 19-20 — Legends Classic, Barclays Center 
Teams: UCLA, Indiana, Georgetown and Georgia
Dec. 15 — Brooklyn Hoops Winter Festival, Barclays Center
Michigan vs. West Virginia Fordham vs. Princeton
Dec. 22 — Brooklyn Hoops Holiday Invitational, Barclays Cente
r Seton Hall vs. LIU Manhattan vs. South Carolina