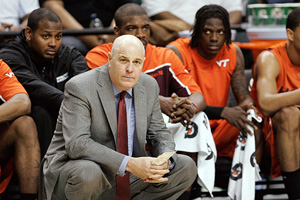 Virginia Tech on Monday fired head coach Seth Greenberg after nine seasons and in part because he had lost six assistants in the last four years.
"I want to thank Coach Greenberg for his dedication and effort in leading Virginia Tech in the early years of ACC membership," Virginia Tech Director of Athletics Jim Weaver said.
Greenberg's contract was bought out for $1.2 million.
"I was completely shocked and blindsided by the decision of Jim Weaver and the administration," the Long Island native told ESPN.com.