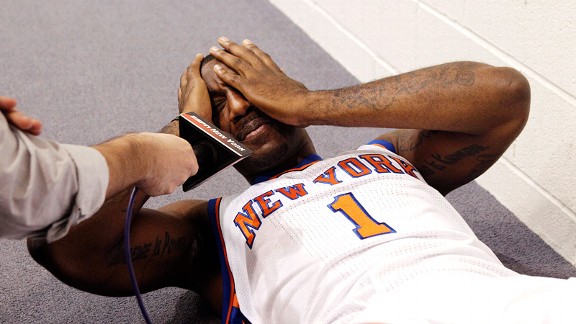 GREENBURGH, N.Y. — Amar'e Stoudemire
said he and other Knicks plan to sit out some games in order to "recover" during this upcoming abbreviated NBA season. "I'm pretty sure this year there will be some days where we definitely will take the time off and recover and just play it smart," Stoudemire said Wednesday.
Stoudemire's comments echoed those of head coach
Mike D'Antoni,
who last week said he would rest players on some days. The Knicks play 21 back-to-backs, three games in three days once and four games in five days on four occasions. Stoudemire suffered a back injury in last year's playoff loss to the Celtics and then rehabbed it during the offseason.
Carmelo Anthony
missed Tuesday's practice after hyper-extending his left knee but returned to the non-contact workout Wednesday and pronounced himself "good" for Saturday's exhibition against the Nets. Both players have had knee surgeries, and Anthony also underwent offseason elbow surgery. "Guys have to be careful with injuries," new center
Tyson Chandler
said. "So many games back-to-back. The rest time is very limited. A lot of the rest time is going to be travel time, so I think you have to beware of how you protect yourself."