If there were a Mount Rushmore of men's tennis,
Roger Federer
would presumably share the facing with the likes of
Laver, Sampras and Nadal.
If a Mount Rushmore of men's golf existed,
Tiger Woods
would be up there with
Palmer, Nicklaus and Hogan.
Yet where both men once dominated their respective sports — and established a warm-and-fuzzy, if corporately enhanced, friendship in the process — it is now an open question whether either will ever win another Major. With 16 Slams entering next week's U.S. Open, Federer is the all-time leader in men's tennis. But he hasn't won a Major since the 2010 Australian Open. If he doesn't win the Open, it will mark the first time in nine years that he hasn't captured
at least
one
of the four Majors. Woods once seemed a near-sure bet to eclipse Jack Nicklaus' record 18 Majors. But derailed by injuries and the tabloid-fueled destruction of his marriage, he has been stalled at 14 since the 2008 U.S. Open.
Still, Federer, whose relationship with Tiger has chilled since the night
Erin Nordegren
battered her then-husband's SUV with a golf club, wants it made clear that he's not in the same boat as Woods.
"I think we're in different places," Federer said last week after losing to
Tomas Berdcyh
in Cincinnati. "He's gone through massive injuries and more problems than I have. I mean, how many times has he got knee reconstructions? Three, four times. I never had surgery in my life, so we're in completely different places health-wise." Federer is completely healthy, he's just 30 years old. He enters the Open as the No. 3 player in the world but he has ceded the spotlight to
Novak Djokovic
, the world's top-ranked player who is 57-2 on the season, and to his arch-rival Rafael Nadal. And with good reason. After winning the 2010 Australian Open, Federer led Nadal 16-6 in Majors. But Nadal won four of the last six and now trails just 16-10.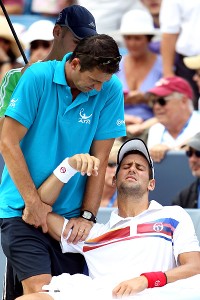 Djokovic has captured two of the three Majors this year and could cap one of the greatest single years in men's tennis by winning a third Slam in Queens. (His immediate future was thrown into some doubt Sunday when he withdrew in the final of Cincinnati against
Andy Murray
with a shoulder injury.)
Still, while Woods looked and sounded unhappy after failing to make the cut at the PGA Championship — "It's frustration, disappointment that I'm not contending in the tournament" — Federer says he has a renewed appreciation for the game now that he's "older." "I definitely feel since breaking Pete's record and feeling since also winning the French Open I'm supposed to enjoy it more," he said. "It shouldn't be just a grind every single time. You also should be able to take fun out of the atmosphere, out of playing in a nice center court. "It's supposed to be positive. Shouldn't be negative the whole time like what some people might make it sound like. What a grueling tour we have and so forth. I like it. I wouldn't change it for the world, and I would do all over again. I am very happy where I am right now. I wouldn't want to be 20 again, so it's a great place." Still, it's got to be hard for a guy like Federer, a guy who grew accustomed to dominating, to get used to losing. Even though he's been close – he beat Djokovic in the semis of the French Open, only to fall to Nadal in the final – he has now gone six straight Majors without holding the trophy aloft. That would've been unheard of just a few years back. Still, while Nadal may well supplant Federer on the all-time Majors list one day in the not-too-distant future, Federer is the leader right now. Woods, meanwhile, needs four more just to
tie
Nicklaus. "Obviously I'm very hopefully that his success is right around the corner, too," Federer said of Woods. "I'm sure once you've been as successful as Tiger, it's right there anyway. You just need a lot of dedication and hard work. I'm sure he's one of the most hard working guys on the golf tour."
Just five years ago, Woods sat in Federer's box during the final of the 2006 U.S. Open when Roger beat
Andy Roddick
for the title.The two buddies seemed on top of the world. Yet Federer, a devoted family man and father of twin girls, has understandably cooled on Woods since the revelations of his extra-marital affairs hit the news. "My relationship, yeah, it's fine," Federer said of Woods. "We're in contact. Even more so when I'm in the States and so forth. So we might catch up. See how the schedules work out." It doesn't exactly sound like Fed is dying to grab a brew with his old buddy. In the meantime, while Woods must wait until 2012 to play in another Major, Federer has one more shot in 2011 to turn back the clock.
RELATED CONTENT
**
Djokovic's odds to win Open improve despite injury
**
McEnroes call Djokovic 'big,' but not 'overwhelming' Open favorite