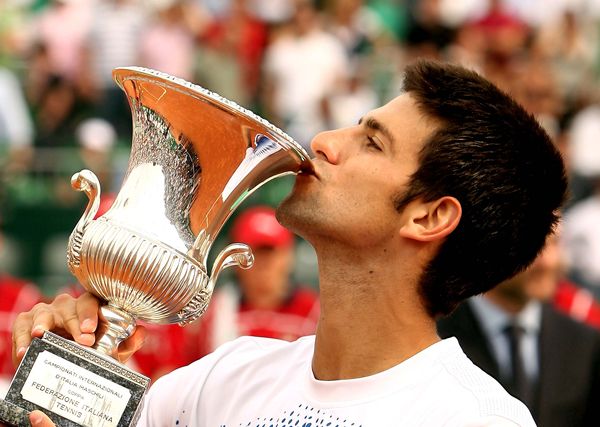 John McEnroe
knows a thing or two about tremendous tennis campaigns.
In 1984, Johnny Mac went  82-3 overall, winning Wimbledon and the U.S. Open and blowing a two-sets-to-love lead over
Ivan Lendl
in the French Open final. Now here comes
Novak Djokovic,
the world No. 1 who was 53-1 entering his match Wednesday in Cincinnati. Djokovic will be seeking his third Grand Slam of 2011 in Queens, having already captured the Australian Open and Wimbledon. He's won a record nine Masters Series 1000 events, and catapulted himself above rivals
Rafael Nadal
and
Roger Federer
in the world rankings. His lone loss came to Federer in the French Open semis. "The guy's playing amazing, is unbelievable," McEnroe said Wednesday on an ESPN conference call promoting the Open, which runs Aug. 29-Sept. 11. "So there's no question about it, that he's a big favorite." WilliamHill.com lists Djokovic as an 11-8 favorite to win the Open, with Nadal, the defending champ, at 5-2, and five-time champ Federer at 4-1. Another betting site, Bodog, lists Djokovic at 2-1, Nadal at 9-4 and Federer at 3-1 As phenomenal a year as Djokovic has had, McEnroe won't go so far as to call the Serb an "overwhelming favorite." "When you got guys like Nadal defending his championship and Federer and
[Andy] Murray
, who I assume should be hungrier than ever and more desperate than ever the way things have been going, I can't say overwhelming, especially with the pressure that he'll be feeling," McEnroe said. "But certainly a big favorite."
Patrick McEnroe
 also refuses to call Djokovic an "overwhelming" favorite. "You've got two of the greatest players of all time who will be extremely motivated," Patrick said. One key factor that could help Djokovic is that Nadal and Federer will be seeded second and third, respectively, and thus could be on track to meet in a semifinal, with Djokovic and Murray the top seeds in the other half. There is no guarantee that will happen, however, and Djokovic could play Federer in a semi, too.
Nadal and Federer have never met in Queens, but the winner of that potential semifinal could then have to turn around and possibly play Djokovic the following day. "I just want to see Nadal play Federer at the Open, so either way, if it's the semis I'm good with that," John said. "Whoever won that may be playing with a lot more confidence when, and if, they had to play Djokovic. "But that is always a dicey situation when you got to play two days in a row, to see how that pans out, who has the tougher semi."
Patrick McEnroe
points out that back-to-back matches of that sort — Nadal in the semis, Djokovic in the final — would be especially difficult for Federer. "At 30, that's going to be really tough for him," he said. Federer, 30, hasn't won a major since the 2010 Australian Open and has dropped to No. 3 in the world, yet he's always a threat in Queens. He won it five years in a row (2004-08) and surrendered two match points to Djokovic in last year's semis. "For Federer it's been a pretty disappointing year by his standards, so you know he's going to be pretty motivated," he said Nadal, meantime, won the French Open and could still theoretically finish the year at No. 1 should he win the Open and possibly the year-end Masters. "He's going to want to show that he can get back to No. 1," Patrick said. "And if he wins the Open, he's certainly got a case, depending on how the rest of the year goes, to finish No. 1, or at least be in the conversation.
"But what Djokovic has done this year has just been off the charts."