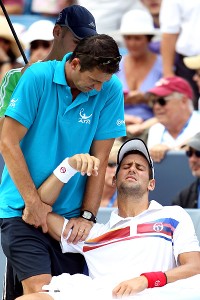 Novak Djokovic
stands a better a chance of winning the U.S. Open now than he did last week despite the shoulder injury that forced him to withdraw against
Andy Murray
Sunday in the final of the Western & Southern Open in Cincinnnati, according to two betting sites.
Last week, WilliamHill.com listed Djokovic as an 11-8 favorite to win the Open. On Monday,
the site listed Djokovic at 5-4
. Bodog.com last week had Djokovic at 2-1 to capture his first Open. On Monday,
he was listed at 6-5
. The good news for Djokovic is that he will have a full eight days to recover before the start of the Open Aug. 29. He withdrew Sunday while trailing Murray 6-4, 3-0 in the final. Djokovic fell to 57-2 in 2011, his only other loss coming to
Roger Federer
in the French Open semifinals. "There is no good loss, that's for sure," Djokovic said. "The good thing is there's a week, eight days to the start of the Open. "I'm confident I can recover and be ready for the U.S. Open." The loss snapped a 16-match winning streak for Djokovic, who already this year has won the Australian Open, Wimbledon and a record five Masters 1000 events. "I could have maybe played another couple of games, but what for?" he said. "I cannot beat a player like Murray today with one stroke." Prior to the injury, both
John and Patrick McEnroe
called Djokovic a "big," but not "overwhelming" favorite to win in Queens. "The guy's playing amazing, is unbelievable," Johnny Mac said last week on an ESPN conference call. "So there's no question about it, that he's a big favorite." At that point, WilliamHill.com listed
Rafael Nadal,
the defending champ, at 5-2, and five-time champ Federer at 4-1. Now, WilliamHill.com has increased the odds on both, with Nadal at 4-1 and Federer at 9-2. Murray stands at 5-1. Whereas Bodog listed Nadal at 9-4 and Federer at 3-1, Nadal (4-1) and Federer (9-2) now have longer odds, with Murray at 6-1.