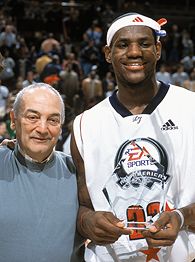 AVALON, N.J.
— When it comes to the July recruiting period, the Wild West days of
Sonny Vaccaro
vs.
George Raveling
are gone.
Long gone. "You can never say never," said
Gary Charles,
the head coach of the New York Panthers and a Vaccaro lieutenant from 1992-2006, when Vaccaro hung up his kicks and retired . "But I think it's extremely hard to duplicate what Sonny Vaccaro has done." Charles recalls the days, not so long ago, when there was a "buzz in the air" in early July because of the impending matchups at the ABCD Camp at Fairleigh Dickinson University between
Derrick Rose
and
O.J. Mayo, Derrick Caracter
and
Greg Oden
or 
LeBron
and
Lenny Cooke.
"There was a buzz in the air that everyone knew," Charles recalled. "It wasn't just great for you, it was great for everyone." Vaccaro, 71, is living in California and
flirted with Chinese apparel manufacturer Li Ning about a return this summer
, but it never materialized. LeBron is still around —
dunking on young kids at Richard Stockton College
and shoving them to the ground while he awaits the fate of the NBA lockout. And in fact, his LeBron James Nike Skills Academy (July 6-9) in Akron will have the predominance of talent beginning next week. (The official roster is not released until Tuesday.). Sixteen of the top 25 players in the
Rivals150 for the Class of 2012
attended Nike academies run by
Kevin Durant, Deron Williams
and
Amar'e Stoudemire.
Among the players who attended those academies are the players ranked 4-10 in the Rivals rankings:
Kyle Anderson, Mitch McGary, Devonta Pollard, Anthony Bennett, Ricardo Ledo, Rodney Purvis
and
Jarnell Stokes.
"Nike has almost all the elite AAU travel teams that have the elite players," said longtime New York recruiting expert
Tom Konchalski.
"Everyone else is trying to be Avis. Everyone else is jockeying for No. 2. They're looking to place, rather than to win. "Nike has the elite players and I don't think that's going to change." Still, the adidas Invitational in Indianapolis (July 6-9) will feature a matchup on Thursday of the two top players in the Rivals rankings. Guard
Shabazz Muhammad
of Dream Vision and big man
Andre Drummond
of the Connecticut Basketball Club will go head-to-head in the Super Pool. Meantime, 7-foot Baylor commit
Isaiah Austin
, No. 3 in the Rivals rankings, is slated to appear at the Great American Shootout in Duncanville, Texas July 8-11. Several other players, including No. 19
Perry Ellis
of Wichita, KS, will also attend the adidas tournament even though he was invited to LeBron. (Look for Ellis to have the Duke staff trailing him in Indy.) The mandate by adidas to have its top players attend its event has had a trickle-down affect on other camps, such as the
Reebok Basketball Breakout Challenge at Philadelphia University July 5-9
.
Players such as 2013 St. Patrick big man
Austin Colbert
was slated to attend the Reebok Camp but has now been invited to LeBron after adidas took a bite out of the Nike pool.
"I can't wait," Colbert said of the LeBron invite. Reebok isn't the camp it was at the end of the Vaccaro Era, but former Vaccaro/
Chris Rivers
lieutenant
Patrick Coombs
has assembled a nice lineup of young players. The Reebok list includes St. John's commit
Jevon Thomas,
Arizona commit
Eric Cooper
, Alabama commit
Jaren Sina
and Michigan commit
Nick Stauskas
, all juniors; 2012 guard
Kareem Canty
, who has Big East, Pac-10 and ACC interest; and 2013 guard
Rysheed Jordan
of Philadelphia. "There will be good players there," Konchalski said. Still, Konchalski himself plans to head to the Hoop Group Elite Camp in Reading, Pa., which is slated to include Lincoln High stud
Isaiah Whitehead,
former Lincoln 7-footer
Jordan Dickerson
, headed to IMG Academies and 2013 wing
Davon Reed.
"College coaches are going to ring up a lot more frequent flyer miles, especially in the early 10 day recruiting period because there are four places where they've gotta be," Konchalski said. "Someone on their staff has definitely got to be there." So the beat goes on, with Sonny Vaccaro and his Nike counterpart George Raveling nowhere in sight, and the buzz perhaps missing from the Sneaker Wars. "There's no wars going on," Charles said, "so there's something missing."