NEW YORK
— The Arizona men's basketball season doesn't start until the fall, but
Nick
and
Sidiki Johnson
are getting an early jump.
Sidiki called Nick, who is not related but is a fellow Arizona commit, and asked if he would like to join him on the New Heights AAU team that is competing in the iS8/Nike Spring Classic. "I called Nick and I was like, 'Let's start our college season now. Start it now in May,'" the 6-foot-9, 225-pound Sidiki said Sunday. "He flew out [from Findlay Prep in Las Vegas] on Friday. He got here Friday morning." Together, the duo caused some serious damage. After breaking his foot early this season, Sidiki rebounded to put up 27 points, 18 rebounds and 5 blocks as New Heights emerged with a 60-57 quarterfinal victory over the Long Island Lightning. "[He was a] beast, beast," said Nick, a 6-2 combo guard who added 11 points, 6 rebounds, 4 assists and 3 steals. "This is his city and I mean he's putting on for his city." New Heights will play the Sean Bell All-Stars in one semifinal Saturday, while the Playaz will meet Real Scout in the other. "Me and Nick playing together is just an honor," Sidiki said. "We're getting our chemistry going now. He's like a brother to me. And it's just an honor playing on the same team as him."
Sidiki and Nick (pictured at left) represent half of coach
Sean Miller's
incoming recruiting class, with point guard
Josiah Turner
and power forward
Angelo Chol
— both of California — representing the other half.
For a day or so, it appeared that Miller might be on the move to Maryland to succeed the retired
Gary Williams.
Those were tense moments for the Arizona recruits. "Sean Miller, wherever he had went, I would have stayed with him," Sidiki said. "He's a great coach. Wherever he was going, I would probably just have went with him." Fortunately for the recruits, Miller stayed put and signed an extension with Arizona. "I was one happy guy," he said. "I was so excited. I've been committed for two years there so I was just happy." Nick had similar sentiments about Miller returning. "I was a little [worried], but everything turned out good," Nick said. "He got his contract and everything so we're good." Arizona will lose star forward
Derrick Williams
, who destroyed defending national champion Duke in the Sweeet 16 of the NCAA Tournament and is projected as the No. 2 pick in the NBA Draft by DraftExpress.com. "Who wouldn't want to play with him?" Nick asked. "It will make our job easier. But he had to make a decision and I think he made the right one, so you can't pass that up."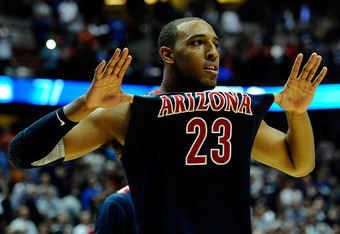 "It's a win-win situation," Sidiki added. "If [Williams] stayed, I would practice against the best player in the country every day helping my game. And he leaves, I got a great opportunity to go and get a chance to fill in some big shoes."
Despite the loss of Williams, Nick is excited about the future of Arizona basketball in general. Arizona brings back sophomore forward 
Solomon Hill,
junior forward
Jesse Perry
, junior guard
Kyle Fogg,
freshman guard
Jordin Mayes
and New York's
Kevin Parrom.
"Our recruiting class is top five in the country and just the tradition of Arizona, it's a lot more than anybody else," Nick said. While Nick played all season for perennial power Findlay Prep, Sidiki didn't play much organized ball because of injuries and off-the-court issues. He broke the fifth metatarsil in his foot and didn't return to play for Oak Hill Academy until January. "I wasn't in game shape, so I was out a while," he said. In February, he and Oak Hill teammate
Ben McClemore
were
dismissed from the team for an undisclosed violation of team rules
. Johnson returned home to New York and took classes at Wadleigh, but didn't play ball. "I didn't do nothing with Wadleigh at all," he said. "I just take my classes and go work out." By the looks of the way he was playing Sunday, he's on a tremendous trajectory. "I feel great," he said. "I feel like I never broke my foot. I'm moving the way I want. I felt like I never had an injury." And now he and his future teammate are two wins from a championship at iS8. "That's the goal," Sidiki said. "Play hard every game. Play to win. That's the goal and just hope for the best."
RELATED CONTENT
**
Momo Jones transferring from Arizona