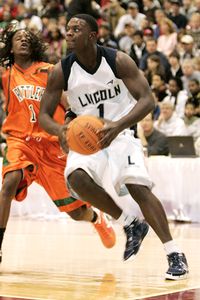 **See the recent video interview with Lance here.
NEW YORK – Lance Stephenson
says he has already made up his mind about college. He's just not ready to announce it to the world yet. "I already know where I'm going," the 6-foot-5 Stephenson said Wednesday afternoon at a press conference at Madison Square Garden in advance of Saturday's PSAL championship game. "I been having it in my head about a week ago." Asked why he didn't just announce right then, Stephenson smiled and said, "It's not the right place." Stephenson said he will attend either "St. John's, Maryland [or] Kansas" and that he talks with coaches from each school every day because "maybe I could change my mind." Asked if that could happen, he said, "I think I'm set." A source close to his inner circle told me Tuesday night that Stephenson, ranked No. 1 in the Class of 2009 by the Hoop Scoop and No. 9 by Rivals,
would likely end up at either Kansas or St. John's and that Maryland was basically out of the running
. "I definitely think he do know where he's going, but he's just holding it," Lincoln coach
Dwayne "Tiny" Morton
added. Morton said he didn't know where Stephenson is going. "He's smart," Morton joked. "I probably would've leaked it." Stephenson and the top-seeded Lincoln Railsplitters seek their fourth straight PSAL title against No. 2 Kennedy of the Bronx at noon on Saturday. Stephenson had initially told me he might announce after the game, but has since decided to wait until March 31 at the McDonald's All-American Game in Miami.
"If I win [Saturday] I'm going to be too excited to talk about that [college] and if I lose I'm going to be too mad to talk about it," Stephenson said. "That's what my father said. He said that's not a good decision. "I'm going to wait to the McDonald's Game where I can sit down, take my time and talk about why I picked the school and stuff like that." Asked if he was looking forward to getting the process over with, Stephenson said: "I can't wait until I get over with it because I call them [the colleges] every day, talk to them, try to figure out how can I fit in their program." Kansas assistant
Danny Manning
has been recruiting Stephenson for the Jayhawks, and Stephenson said he has a lot of respect for the former No. 1 draft pick. "Danny Manning, I look up to him a lot," Stephenson said. "He's a great player and a great assistant coach so I think he's good." Stephenson has taken official visits to Kansas and Maryland and been to St. John's unofficially. Both Manning and St. John's head coach
Norm Roberts
were in attendance Sunday when Lincoln beat Brooklyn Boys & Girls in the PSAL semis. Maryland coach
Gary Williams
has been to watch Stephenson previously in the playoffs. Kansas and Maryland are both in the NCAA Tournament, while St. John's is in the College Basketball Invitational. Yet Stephenson said the teams' performances in the postseason won't impact his decision.
"I don't base my decision on that," he said. "I base my decision on the players surrounding me, the coach and wherever I feel comfortable at." He later added:  "I just want to have a chance to win the tournament, so I'm picking by that." When asked about St. John's not being close to capturing a title, he said:  "I don't want to talk about college no more." Morton said it was good that there had been a limited number of schools involved in the recruiting process. "I'm glad it wasn't 20 schools knocking on the door at the beginning of the season and making him all confused," Morton said. "I'm glad his father reached out to certain schools, so I think they did a good job." If there were no NBA age limit, Stephenson would have headed straight into the NBA after his senior year. "If I had the chance to go out of high school, of course I'd take it," Stephenson said. Instead, he must spend a year in college. Asked if he felt pressure to follow in the footsteps of former Lincoln stars and current NBA players
Sebastian TElfair
and
Stephon Marbury
, Stephenson said: "I think it's no pressure. I just have to play like I normally play. I don't think I have too much pressure on me."