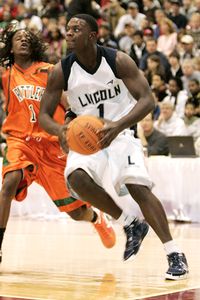 Lance Stephenson
will make his college announcement March 31 at the McDonald's All-American Game in Miami and will likely choose from between defending NCAA champion Kansas and St. John's.
The 6-foot-5 Stephenson, ranked No. 1 in the Class of 2009 by Hoop Scoop and No. 9 by Rivals, had initially said he might announce after Saturday's PSAL championship game at Madison Square Garden. Top-seeded Lincoln is seeking its fourth straight PSAL title and will face No. 2 Kennedy at noon at the Garden. Instead, Stephenson will wait until March 31, with Kansas or St. John's the likeliest destinations. Kansas assistant
Danny Manning
and St. John's head coach
Norm Roberts
have been tracking Stephenson in recent weeks. Stephenson has taken an official visit to Kansas and has seen St. John's unofficially on numerous occasions. He also took
a much-discussed official visit to Maryland
but a source with knowledge said Maryland is basically out of the picture.