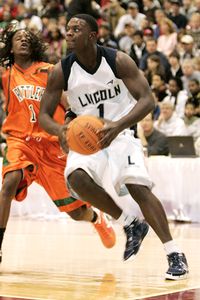 Lance Stephenson
will make his college announcement March 31 in Miami, according to the McDonald's All-American media relations folks.
"We are excited to report that Lance Stephenson, the highly recruited 6-5 senior guard from Brooklyn, NY, is set to announce his college decision during the 2009 McDonald's All American Games in Miami Fla," according to an email sent to the media. "This much anticipated announcement will take place during Media Day on Tuesday, March 31 at 11:45 a.m. ET at the BankUnited Center." The 6-foot-5 Stephenson
said he has already decided and will attend either Kansas, Maryland or St. John's.
A source close to the decision-making process told us it will be either Kansas or St. John's. The game itself is set for 8 o'clock on April 1 and will be shown live on ESPNU. ***
See the recent video interview with Lance here.