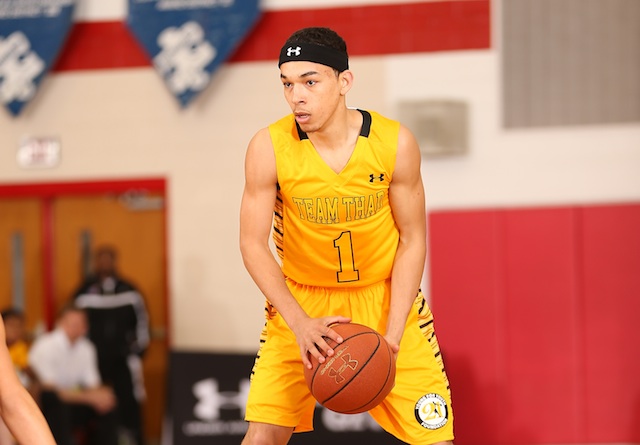 2014 point guard 
Chris Chiozza
 is off the board. The 5-foot-11 point guard from Memphis (Tenn.) White Station picked Florida Tuesday.
"Feels good to be a gator
#
florida
#
universityofflorida
#
chomp
," he Tweeted. He also considered Ohio State, Memphis, Tennessee, Auburn, UMass and Richmond. "Florida's always been one of my top three schools since I was a little kid," Chiozza 
told SNY.tv recently in Fort Wayne, IN
. "I've always loved watching them. I'd also
love to play with 
Kasey Hill a
nd 
Chris Walker,
 if they're still there. They're also recruiting my teammate 
Leron [Black]
 so that's a school where we could play together." Chiozza and Black, teammates on the AAU circuit and at Memphis White Station High School, have discussed that possibility, meaning Black might now consider Florida. The 6-7 Black listed Florida, Illinois, N.C. State, Ohio State and UConn as the other schools coming after him the hardest. "We haven't said for sure if we're going to go to the same school," Chiozza said. "We've said we want to play with each other. If we don't, we're still going to be like brothers—we've known each other since we were little."
BUTLER TO RHODY
Matt Butler,
a 6-3 shooting guard from Memphis East, signed with Rhode Island and head coach
Dan Hurley.
"Matt is a sharp-shooter, no question," East coach Vernard Watkins
told the Providence Journal
. "Matt and his mother are real impressed with Coach Hurley and the structure in the program. he was always looking for the right fit. Matt is a good student and a disciplined kid with great character." Butler joins 
E.C. Matthews
of Detroit and
Hassan Martin
of Staten Island in Rhody's recruiting class. The Journal reported that Rhody remains involved with Chicago power forward
Alex Foster,
who visits this week.
FREE THROWS
Texas A&M reportedly got a commitment from 6-10
Dylan Johns
of the Houston (TX) Trent International School….Seton Hall point guard
Tom Maayan
is reportedly back in Israel doing his obligatory military service and may not return to the Pirates. Photo: CBSSports.com