In the face of a withering takedown by Adrian Wojnarowski of Yahoo! Sports, both
Coach K
and
Jim Boeheim
responded in the last 48 hours — with both saying that the
Paul George
 hospital bed photo was not staged and that Duke does not gain a significant recruiting edge as a result of Coach K leading Team USA.
"That was a really bad thing, to bring up Paul George," Krzyzewski told reporters Thursday,
according to USA Today
. "After he was injured, USA Basketball was in the trauma room — me,
Jerry (Colangelo)
, a bunch of NBA people and whatever. There were too many people there, so they asked for only the family and the doctors. We went back. A few of the people from USA Basketball left that morning. I was staying with my family for a couple of days.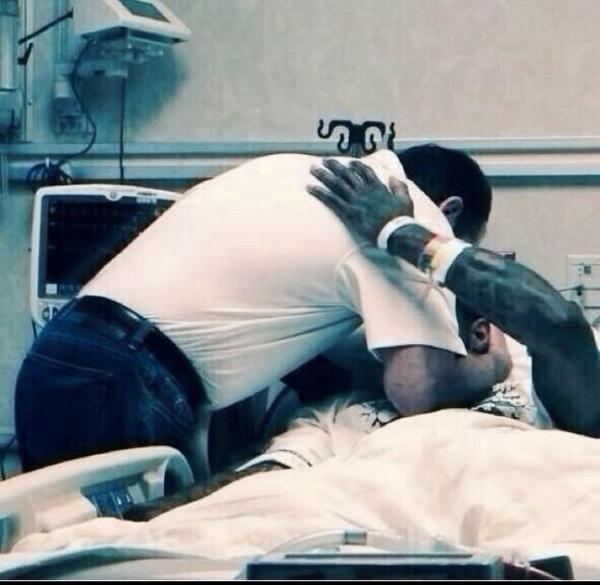 "I went back to the hospital the next day secretly. ESPN had cameras in front of the hospital. We were able to go through the back and go in. I spent a half hour with Paul, his mom, dad, two sisters, a couple of friends and his girlfriend. There was an emotional moment during it. I did not take any pictures. I did not know a picture was taken. I think his sister took a picture and she tweeted it because it was an emotional scene.
"To say that I orchestrated that and used Paul George to show that I was a good guy is really wrong. For anybody to think that, if you want to think that, then you are a bad person." Boeheim also weighed in on the matter  and defended Coach K's account. ""The thing that Wojnarowski wrote was completely off-base,"
Boeheim told Syracuse.com
. "The thing I hate about writers is they want to state their case and they use false information. He put in that Mike went to the hospital for publicity. Paul George's parents took the picture. They put it out there. We had no cameraman. It was his parents. That was unbelievably low." On the topic of the recruiting advantage Coach K (and Boeheim) gain from coaching the national team, both seemed to acknowledge it existed but tried to play it down. Coach K acknowledged visiting
Jahlil Okafor, Tyus Jones and Justise Winslow
last summer when they were with the USA U19 team, but pointed out that other USA Basketball coaches — such as Florida's
Billy Donovan
, who coaches the U18 team — have a similar advantage. "You think that's why they went to Duke?" Boeheim said. "Because Mike talked to them for five minutes? That's a joke. Duke got better classes before he was a national coach than he is now. This last class is good. Before he started he had several top classes. Duke has been getting top players a long time. That can be proven." "Two days in nine years," Krzyzewski said. "There's a selection committee of college coaches who select these teams. Jim Boeheim has headed that for 10 years. In the 10 years he's done that, probably every time he's done a tryout, he's been there three or four days with other members of the selection committee who are college coaches. … College coaches coach those teams. … If you would do research on it and take the last nine years of every college coach who had access to younger players, you would find an astounding number of days for people on the selection committee. I'm not begrudging them. They give up time to do that. But to pick out and say that I've done that once or twice, it's ridiculous.
"It's utterly ridiculous. Anybody who comments on it without doing the research is really wanting to take that point of view. I don't get it. I don't get it."
Meantime, Boeheim also said that Kentucky's
John Calipari
had complained about Coach K's access to younger players. Calipari, of course, coached the Dominican Republic National Team that featured 7-footer
Karl-Anthony Towns
, now a Kentucky freshman and a projected lottery pick. Boeheim also told Syracuse.com Calipari will coach the U.S. Pan-American Team next year. "It's a concern he has raised before," Boeheim said of Cal. "That particular case he has mentioned. He's said he thinks it's an advantage. He got the No. 1 recruit in the country. It's a little bit disingenuous of him. I like John. We get along fine. He feels Mike is getting an advantage. You could make that argument. But Duke isn't getting any better players than they ever have."
Not to be left out, Calipari then chimed in on Twitter on Thursday defending Coach K and Boeheim: "The job that Coach K and Coach Boeheim have done to turn around USA Basketball, to make it what it is today is truly amazing." "If – and I emphasize if – they gained any advantage, because of that work, I don't begrudge them in the least. "My time with the DR team showed me how hard & how much time it takes away from your own team & your recruiting to do those things right. "There's not a college coach in the country that would say no to Jerry Colangelo if he asked them to coach the national team." Meantime, both Coach K and Boeheim
are expected back out recruiting next week and will check in on 2016 Gill St. Bernard's guard
Tyus Battle.