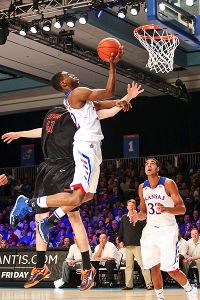 Despite his lackluster play last week in the Bahamas, NBA executives and scouts are still understandably high on Kansas freshman
Andrew Wiggins.
"His status isn't about what he IS, it's about what he CAN become," one NBA GM who would take Wiggins No. 1 overall told SNY.tv. Wiggins averaged just 8 points and 5 rebounds in Kansas' last two games in the Bahamas — a loss to eventual champion Villanova and a win over UTEP — but by all accounts he was very ill. "He was sick the whole trip but he still has to play and bring it," said a source close to the Kansas program. Some NBA types maintain that Duke's
Jabari Parker
is the more complete player at this stage and would take him No. 1. "I take Jabari every time,"
one NBA assistant told SNY.tv over the weekend
. "Ready to play, a winner, great kid, can shoot. He has tremendous upside and has performed when the lights were on." Still, a general consensus seems to exist that Wiggins has a higher ceiling going forward. "Up to this point he's certainly not living up to the media hype," one former NBA GM said of Wiggins. "He is not ready to turn around any NBA team right now. Down the road 2-3 years yes, but not now." Said an NBA scout: "All [the freshmen] are great talents, Wiggins has the best upside." Said the NBA GM: "Just remember who the highest-rated high school player was three years ago and looked like a train wreck in college [
Andre Drummond
] and who looked great in college [
Michael Kidd-Gilchrist
] and hasn't done s*&t [in the NBA]."
Kansas has a critical four-game stretch coming up with games at Colorado and at Florida before returning to play New Mexico in Kansas City and Georgetown in Lawrence. All eyes will be on Wiggins, who hopefully feels better and shows what he's capable of. *** With that in mind, here's a brief breakdown of the four top freshmen and what they've been doing and what's ahead. In future weeks, we will feature other top freshmen, including Kansas'
Joel Embiid
and
Wayne Selden
, Kentucky's
James Young
and
Andrew and Aaron Harrison
, Indiana's
Noah Vonleh
, Syracuse's
Tyler Ennis
, LSU's
Jordan Mickey
and others:
**ANDREW WIGGINS, 6-8 SF, Kansas
Stats:
14.3 ppg, 5.6 rpg, 2.1 apg
Next 3 games:
Saturday at Colorado, Dec. 10 at Florida, Dec. 14 vs. New Mexico.
Mock Drafts:
Draft Express No. 1, The Big Lead No. 1.
What to read:
Calipari Expands on Wiggins' Recruitment
.
**JULIUS RANDLE, 6-9 PF, Kentucky
Stats:
 18.1 ppg, 12.5 rpg, 1.6 apg
Next 3 games:
 Friday vs. Baylor (Arlington, TX), Dec. 10 vs. Boise State, Dec. 14 at North Carolina.
Mock Drafts:
 Draft Express No. 2, The Big Lead No. 2.
What to read:
Magic, Jalen Say Randle Should be No. 1 Pick
.
**JABARI PARKER, 6-8 SF, Duke
Stats:
 23.0 ppg, 8.0 rpg, 2.0 apg
Next 3 games:
 Tuesday vs. Michigan, Dec. 16 vs. Gardner-Webb, Dec. 19 vs. UCLA (Madison Square Garden).
Mock Drafts:
 Draft Express No. 3, The Big Lead No. 3.
What to read:
NBA Assistant: Jabari Parker Would Help Multiple Playoff Teams This Year
.
Duke's Parker Can Envision Playing with Okafor Next Year
**AARON GORDON, 6-9 PF, Arizona
Stats:
 12.1 ppg, 9.3 rpg, 1.6 apg
Next 3 games:
 Tuesday vs. Texas Tech, Saturday vs. UNLV, Dec. 11 vs. New Mexico State.
Mock Drafts:
 Draft Express No. 6, The Big Lead No. 7.
What to read:
Guard Play has Arizona Poised for Big March
.
Coach K: ESPN is Overhyping the Diaper Dandies