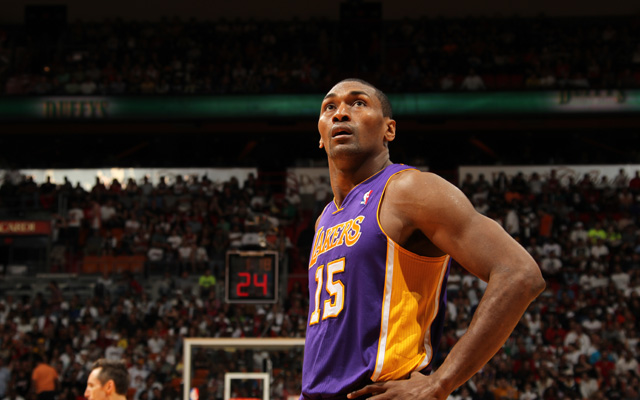 Metta World Peace
will retire if amnestied by the Lakers.
That's what his father,
Ron Artest Sr.
, told SNY.tv Tuesday evening, shortly after speaking with his son. "You know what he told me?" his father said by phone. "He told me, if the Lakers amnesty him he's going to retire." The 
Orange County Register report
ed that the 
Lakers
 will amnesty 
World Peace
, who is owed $7.7 million next season on an expiring contract.
Kobe Bryant
went on Twitter Monday and said he'd like to keep the band together for one more run next season. "Personally I'd keep Metta and make a run with the unit we have and just add a few pieces," Bryant Tweeted. Artest Sr. insists his son will hang it up if amnestied by the Lakers. "That's what he say," he said. "If they give me amnesty I'm not going to play again. I'm going to retire." The Knicks need a small forward and could use the $1.4 million veteran's minimum to bring the 33-year-old World Peace home. The Knicks famously skipped the St. John's product in the 1999 NBA Draft in favor of
Frederic Weis.
"Ever since he was in high school and at St. John's he wanted to play for the Knicks but the Knicks never went after him for some reason," his father said. Cardozo High School coach
Ron Naclerio
, who is close with World Peace, said he doesn't think the player will retire if amnestied. "I don't see Ron going down like that," Naclerio said. "He loves the games, he's lived the game and I don't see him walking away this way.
"He can still help the right team. His role could make the difference for a lot of teams." Could that team be the hometown Knicks? "What kid doesn't want to give a shot coming home to play for New York," Naclerio said, "especially because of how hurt he was when he wasn't drafted by the Knicks."