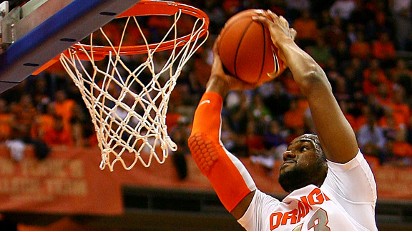 Syracuse sharpshooter 
James Southerland
 went undrafted Thursday night but has hooked on with two teams this summer.
The 6-foot-8, 221-pound Queens native will play with the Philadelphia 76ers in the Orlando summer league and with the Golden State Warriors in Las Vegas, his high school coach
, Ron Naclerio,
told SNY.tv. Naclerio said the San Antonio Spurs wanted to draft Southerland at No. 58 and stash him overseas for a year, but there was no guarantee what would happen after the overseas years. "By turning down San Antonio drafting him, it turned out to be better for him to be seen not only by the two teams that want him but by the rest of the league," Naclerio told SNY.tv. In Philadelphia, Southerland will be reunited with former Syracuse point guard
Michael Carter-Williams,
the No. 11 pick
.
"He's going to feel at home there playing with Michael Carter-Williams," Naclerio said. "And Philadelphia looks like they're rebuilding and James will be a nice piece." Former Iona point guard
Scott Machado
will be in Golden State and he and Southerland have a connection, too. "Scott Machado was going to come to Cardoozo and his sister went to Cardozo," Naclerio said. "They played AAU basketball together and grew up about 20 blocks apart. The comfortability will be there." In March, Southerland broke the Big East Tournament record by hitting 18 3-pointers in the event to break
 Gerry McNamara's
 record. He averaged 13.3 points and 5.2 rebounds for the season. "He's athletic and long," a veteran NBA scout said then. "He shoots it from all over. He would be a nice pick for someone wanting instant offense off the bench."
Photo: Getty Images