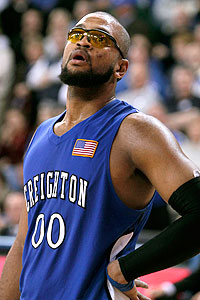 Gregory Echenique and Durand Scott, two players who played high school basketball in the New York area and went undrafted Thursday, have found summer league teams.
The 6-foot-9, 260-pound Echenique will play for the Toronto Raptors in the Las Vegas summer league and the 6-5 Scott is headed to the San Antonio Spurs. "I think it's good to have another chance to show people what I can do and bring to the table," Echenique, the former St. Benedict's Prep, Rutgers and Creighton standout, told SNY.tv Friday. "It also allows me to approach the process now as a free agent which opens up things a bit more for me," added Echenique, who is repped by
Ben Pensac
k. "This motivates me to keep working hard so I'm looking forward to it." Echenique averaged 9.7 points and 6.6 rebounds last season at Creighton, which reached the third round of the NCAA Tournament. "This is a great opportunity for Gregory to showcase his talents against players at the next level," said his mentor
Scott Smith
, a Wagner assistant. "He has been working hard at this for a very long time and I feel people will take notice. There are very few big as strong as Gregory." Scott, the former Rice High School star, will play for the NBA runner-up Spurs, the player and his agents told SNY.tv. He is repped by
Andy Miller.
"It's a great opportunity to go out there and prove myself once again," Scott told SNY.tv. "I really appreciate San Antonio for giving the chance to go to summer league with them and I'm just looking forward to it." Scott, a 125-game starter at shooting guard over four seasons for Miami, ended his career with 1,650 points, good for eighth in program history, in addition to 404 assists, which sits fifth all-time.
"Durand is a tough-nosed competitor," Miami assistant
 Chris Caputo
 told SNY.tv. "He was the Defensive Player of the Year in the ACC and can defend multiple positions. He is an improved shooter from 3 and uses the pick and roll well." As a senior, he averaged 13.1 points and 4.0 rebounds per game as Miami enjoyed a landmark 29-7 season, winning the ACC regular season and conference tournament crowns to earn a No. 2 seed in the NCAA Tournament.
Kenny Kadji
, Scott's former 6-11 Miami teammate, will play with the Cleveland Cavaliers. "He has a great combination of size, skill and athleticism," Caputo said. "He will be utilized as a stretch four and is a capable scorer near the rim."
Follow Josh Newman on Twitter