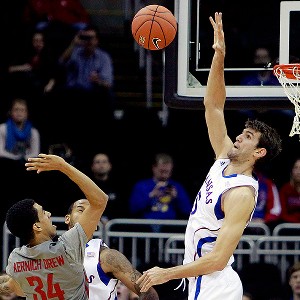 GREENBURGH, N.Y.
— Kansas big man
Jeff Withey
knows what everyone else knows about the Knicks' frontcourt.
It's old and banged up, and in desperate need of an infusion of youth. "Yes, unfortunately they got hurt and almost everybody in the big position got injured," the 7-foot Withey said following a workout Monday against Bucknell big man
Mike Muscala.
"I like to model my game after
Tyson Chandler
defensively. It would be awesome to be able to come here and learn from him, get some stuff from him and mentor underneath him. They definitely do need that. I would love to be that person. I've never met him, but he's a California guy just like me. Maybe I'll meet him sometime." The Knicks own the No. 24 pick in the June 27 NBA Draft and the rival Brooklyn Nets pick at No. 22. Withey and Cal guard
Allen Crabbe
will both work out for Brooklyn one day after visiting the Knicks. A San Diego native, Withey said he knows Brooklyn center
Brook Lopez,
who grew up in North Hollywood, Calif., and that both played for the EBO AAU outfit. "I know Brook pretty well," Withey said. "I played on the same AAU team is him. I was a freshman in high school when he was a senior. I know him pretty well. I think that it's pretty much the same thing. Both teams need a backup center. I think my first year I could pretty much come in here and contribute. New York is a great city and a great town, I would love to be in this area."
Withey, who averaged 13.7 points, 8.5 rebounds  and 3.9 blocks last year at Kansas, said he would be happy playing for either New York team. "I don't care," he said. "Whatever team picks me up I'll be happy. I never lived in a giant city like New York. But I'm from San Diego and that's pretty big." The 6-6 Crabbe was the Pac-12 Player of the Year and leading scorer in the league, averaging  18.4 points and 6.1 rebounds per game. If the Knicks were to lose
J.R. Smith
to free agency, they may need another shooter like Crabbe and he feels he can fit the bill. "[I'm] definitely a person who can shoot the ball really well," Crabbe said. "I can spread the floor, I rebound well at my position. I've been working on my defense a lot, really feel like it's coming along so a kid who's just going to come and work hard. I'm looking to improve in every aspect of my game so just a person who can come and contribute." DraftExpress.com currently has Crabbe going No. 26 to the Minnesota Timberwolves and Withey No. 28 to the San Antonio Spurs. The 6-11 Muscala is projected to go early in the second round. "Of course you think you're better than what they have you but it's everybody's opinion and my job is to come out here in these workouts and just impress the GMs," Crabbe said. "They're the ones who's picking me, not the people who's putting up these mock drafts. You can't really go off of those."
The Knicks also worked out point guards Kabongo and
Lorenzo Brown
out of N.C. State. Both are projected as second-rounders. A 6-foot-1 Toronto, Ontario native, Kabongo played part of his prep career for
Dan Hurley
at St. Benedict's Prep in Newark. He played just the final 11 games of last season at Texas after the NCAA leveled him with a 23-game suspension, having found he received impermissable benefits, then lied about it. The original suspension was for one year, but an appeal from Texas got it reduced to 23 games on Dec. 21. In those 11 games, Kabongo averaged 14.6 points and 5.5 assists as the Longhorns went 6-5 as part of a 16-18 season. "It's always hard when you don't play and when you're capalbe of playing," Kabongo said. "It was sad but it made me stronger. I'm a better person and a better player and I went through adversity and overcame it. So I'm fine with everyting that happened in the past. I love Texas to this day and I can't wait to go back after the draft." As for the Knicks, they are in need of a backup point guard and although Kabongo said he was sad to see
Jason Kidd
retire, he knows they need a young floor general to back up
Raymond Felton.
"I remember when he played on the Nets with
Vince Carter
and RJ [
Richard Jefferson]
and K-Mart
[Kenyon Martin]
, just going that deep," Kabongo said of Kidd. "So [many] things he's done for the game so it's sad but at the same time it is an opportunity with every team that you go to so that's how I attack every workout.
The Knicks will continue workouts Tuesday with a group that includes several point guards and the sons of three former NBA stars: Phil Pressey, Guard, 5-11, 175, Missouri, Junior Pierre Jackson, Guard, 5-10, 180, Baylor, Senior Tim Hardaway, Jr., Guard, 6-6, 205, Michigan, Junior Tony Snell, Guard, 6-7, 200, New Mexico, Junior C.J. Leslie, Forward, 6-9, 200, North Carolina State, Junior Glen Rice, Jr., Guard, 6-6, 215, Rio Grande Vipers (D-League)