Sonny Vaccaro
knows a thing or two about the sneaker wars.
Having signed
Michael Jordan
 (Nike) and
Kobe Bryant
 (Adidas) to their mega-million-dollar shoe deals, and endeavored to do the same with
LeBron James,
no man walking planet Earth knows more about the business than Vaccaro. So when he says that
Andrew Wiggins
could inspire a unique kind of sneaker war in 2014, it pays to listen. "There's not been a three-[company] race before. I'm saying there are three viable candidates," Vaccaro, 73, told SNY.tv about the 6-foot-7 Wiggins,
who on Tuesday shocked the basketball world by picking Kansas over Florida State, Kentucky and North Carolina
. "They are viable in the sense that they got a lot of money. And I've never seen anything like this." Vaccaro imagines a trio of sneaker companies — Nike, Adidas and newcomer Under Armour — batting for Wiggins' signature on a shoe deal next spring after his freshman season in Lawrence. Under Armour in recent years has become a major factor on the grassroots level and also sponsors NBA players
Kemba Walker, Brandon Jennings
and the Knicks'
Raymond Felton.
"Andrew will force a three-team bidding," Vaccaro said. "Under Armour will be in there. There hasn't been a three-team bidding in years, since I went to Reebok a long time ago."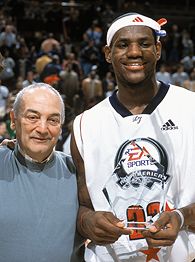 James signed a $90 million deal with Nike in May 2003 while Vaccaro was with Adidas. But at that point, only two companies were in the mix for his services. (Vaccaro left Adidas for Reebok as a result of Adidas' failure to secure James.)
Vaccaro said Wiggins could be a modern-day equivalent. "I'm talking about LeBron-esque money, I mean that sincerely," he said. "I don't how you can avoid it.' Wiggins would be the consensus No. 1 pick in the 2013 NBA Draft if there were no one-and-done rule..and thus could be getting his payday this spring if the NBA age limit — which Vaccaro staunchly opposes — was different. "He could get as much money now," he said. "He would be the first out-of-high-school kid to be like LeBron…He's the first guy that could've done this and gotten multi-millions of dollars, multi-millions." Having chosen Kansas, Wiggins picked the one school of his Final Four that is an Adidas program. The other three are all Nike schools. Some have speculated that by going to an Adidas school, Wiggins will have the added benefit of driving up the cost for his services next spring, when he is projected to be the No. 1 overall pick in the 2014 NBA Draft. According to that line of thinking, Nike would then need to up the bidding to pry Wiggins away from adidas and toward the Swoosh. Vaccaro doesn't buy into that, however. "The money is going to be so good for Andrew, going to a college for six months has nothing to do with his value," Vaccaro said. "He could sign right now and maximize himself as far as what the industry and other people think of his talents." He added: "He is the most valuable property to come along since
Derrick Rose,
there's no question about that." Vaccaro said part of Wiggins' appeal is that he is the first non-American — Wiggins is Canadian — to rival players like James, Rose and
Kevin Durant
in terms of his potential and mass appeal.
"He is the anointed one now," Vaccaro said. "Everybody knows how good he is." All Wiggins needs to do to guarantee his payday, Vaccaro said, is to avoid any major injuries or stumbling blocks at Kansas. "If he doesn't hurt himself while he's in college, physically or mentally or whatever, he's got it locked," Vaccaro said. "The only way he could help himself is if they [Kansas] win the national championship." And you can bet Kansas fans believe that is possible after Tuesday's stunning development.
**For previous articles on Andrew Wiggins, click here.