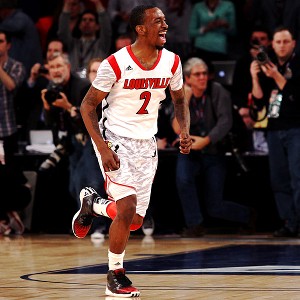 ATLANTA — Russdiculous
says he's "leaning toward" returning to Louisville for his senior season.
"If I were to come back next year, which is I'm not going to say 50/50, but it's more of leaning towards coming back, we'll just have to see," Brooklyn native Russ Smith said here Sunday in response to another reporter's question. "I have to talk to my dad and I have to talk to
Coach [Rick Pitino]
and we'll just go at it from there." DraftExpress.com has the 6-foot Smith going early in the second round of this year's Draft,
and a veteran NBA scout told SNY.tv. he could go late in the first
. "You can't guard what you can't catch," the scout said. "Cat quick and Brooklyn tough." Smith went 6-for-17 for 21 points in Louisville's 72-68 win over Wichita State Saturday night in the national semifinals. Louisville will face Michigan Monday night for the NCAA championship. "I'm not going to sit here and say that I'm not thinking about leaving or this, but it's up to coach and what coach thinks is best for me," Smith said. "I'm always trying to ask my dad what's the right decision and I'll ask coach, coach will tell me what's the right decision. "And I'll always get the answer, 'Just play to win and win the next game.' After the season we're going to see where I belong and what people say." Smith also said he strongly considered transferring after his freshman season because things weren't going well. And where might he have landed? "Definitely a lower-mid-major school, probably scoring the basketball at a ridiculous rate, but probably wouldn't be in the NCAA Tournament playing for a national championship," he said.
"I would give anything in the world to score a little bit less and play for a national championship." Photo: ESPN.com