After Louisville sophomore 
Kevin Ware
went down with a gruesome right leg injury that left his teammates shellshocked and crying, he only had one thing on his mind.
"The bone was six inches out of his leg and all he's yelling, 'Win the game, win the game,'" Louisville coach
Rick Pitino
told CBS after the Cardinals knocked off Duke, 85-63, in the Midwest Region final in Indianapolis. "I've not seen that in my life." Using the gruesome first-half injury as inspiration to play for their fallen teammate, Louisville advanced to its second straight Final Four and will face Wichita State in one national semifinal on Saturday in Atlanta. Ware, a Bronx native, had surgery on the open fracture Sunday night, and Pitino remained with him at the hospital. This picture shows Ware holding the Midwest Region trophy, presented to him by Pitino. "We won this for [Ware]," Pitino said. "We all are choked up with emotion for him." After suffering the injury with 6:33 left in the first half, Ware was writing in pain in front of the Louisville bench. Trainers rushed over to cover his leg, and his teammates reacted with horror, some kneeling or laying down on the court. "I went over and I was going to help him up and then all the sudden I saw what it was and I literally almost threw up," Pitino told reporters.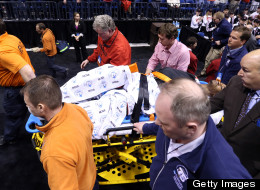 Pitino said on CBS that Ware was taken to a nearby hospital after his bone was broken in two spots and it came out of his skin. CBS would not show replays,
but you can see the video here
.
"We will get back to normal," Pitino said. "We have great doctors and trainers." Ware grew up in Atlanta and Pitino said the Cardinals used that as a motivating chant during timeouts. "We wanted to get back to Atlanta," he said. "We talked about it every timeout. 'Get Kevin to Atlanta.'" Photo: ESPN.com