Seton Hall sophomore guard 
Aaron Cosby
will transfer, leaving another hole in the Pirates' backcourt.
The Pirates will add point guard
Sterling Gibb
s, who sat out last season due to transfer rules, but have already lost recruit
Aquille Carr
,
when he announced he would play overseas
. The fate of recruit
Jerron Wilbut
is also up in the air
after he was recently arrested for felony robbery
. Cosby has been contacted by Boston College, Missouri, Iowa State, Miami, Tennessee, Purdue, Illinois and others, Northfield Mount Hermon coach
John Carroll
told SNY.tv, adding that Cosby has been released to 40 schools. "He plans to make visits shortly and will make a decision soon," Carroll said. "We want to thank Aaron for his two years in a Seton Hall uniform," Seton Hall coach
Kevin Willard
said.  "We wish him luck in his future endeavors." The Louisville native missed an early February loss at Pittsburgh for what were called "family reasons." He then returned to the team for the UConn game that followed. In 65 career games, Cosby averaged 10.1 points 2.2 rebounds and 2.2 assists per game.  Last season, Cosby made 27 starts and averaged 12.6 points per game.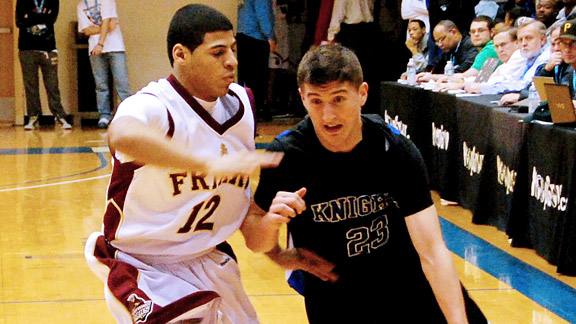 Meantime, Gill St. Bernard's point guard
Jaren Sina
will ask for, and receive, his release from Northwestern following a meeting Monday with the school's AD,
Jim Phillips, Mergin Sina
told SNY.tv.
Mergin Sina, the Gill St. Bernard's coach, said his son would keep Northwestern on his list but would re-open his recruitment. He initially considered Seton Hall and Rutgers along with Northwestern, and also previously committed to Alabama. "We'll get the release and open it up," Mergin Sina said, adding that he expected the release to come by Tuesday. He said Phillips was understanding. "They were very good about it," Mergin said . "He was very up front about it. He said, 'As long as you give us a real shot here,' and I said, 'Yeah.' "They have a lot invested but it's the right thing for the kid" to give the release. "Three weeks from now it could be Coach X and it might not be the right coach for Jaren." Northwestern recently fired head coach
Bill Carmody
and his staff, which included
Fred Hill
, the former Rutgers coach who recruited Sina to the Big Ten school. Duke assistant
Chris Collins
, a former Mr. Basketball in Illinois, is considered a serious contender for the job.
An industry source told the Chicago Tribune
that Collins would be "very interested" in the job and does not see himself ultimately replacing
Coach K
at Duke. Photos: SHU Athletics, ESPN.com