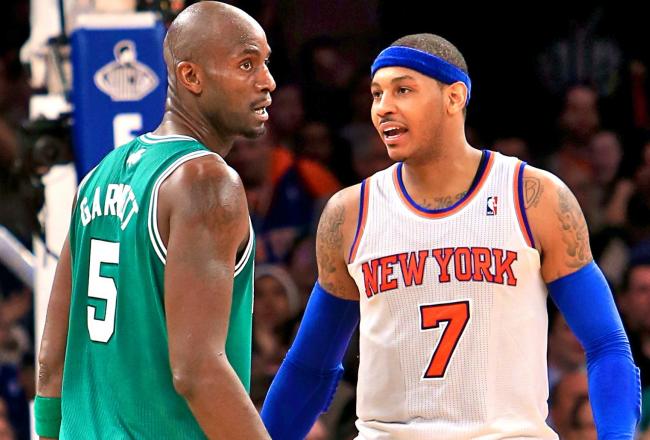 GREENBURGH, N.Y.
— Boston fans are hostile to New York teams by nature.
But when
Carmelo Anthony
 and the Knicks make an appearance at TD Garden Thursday night, they figure to be especially unfriendly. Melo will be making his first appearance in Beantown since he confronted
Kevin Garnett
outside the Celtics locker room and again on the Madison Square Garden loading dock following the now infamous Honey Nut Cheerios events of Jan. 7. At the time, Anthony said Garnett said something that "crossed the line" during Boston's 102-96 win at Madison Square Garden. Anthony was
ultimately suspended one game for his actions
. "That's the least of my concerns at this point," Anthony said of the Boston crowd Wednesday following practice. "The Boston arena's alway hostile so I'm not expecting nothing different tomorrow." The Knicks (25-14) enter the game clinging to a one-game lead over Brooklyn and hold a six-game edge over the Celtics (20-21) in the Atlantic Division. Boston has dropped four straight. In the Jan. 7 loss, Anthony shot 6-for-26 and was clearly unnerved by Garnett's gamesmanship. He's looking to rectify his performance this time around. "I mean, that's my goal," he said. "I don't come into the game saying, 'I want to go 6-for-26.' It happened. There's going to be plenty of nights where I don't shoot the ball very well, so I'm not too concerned about that. My goal is to go out there and try to win and see what happens." Since the incident and the suspension,
Anthony and Garnett were both named Eastern Conference starters for the All-Star Game.
Melo said he had no problem playing alongside Garnett in the game in Houston. "There's no bad blood, there's no grudges between us or anything like that," he said. "I don't hold no grudges or have any bad blood towards the guy."
Regardless of the Melo/KG incident, Knicks coach
Mike Woodson
said the bottom line was trying to win Thursday's game. "At the end of the day, we're trying to stay at the top of our division and it's about winning," he said. "Regardless of what happened a month ago, which I think it's forgotten in everybody's mind." With
Raymond Felton
still out until at least Saturday at Philadelphia with a fractured pinky, Anthony has had to handle the ball more. Even though he missed a six-foot jump shot in the waning seconds of Monday's loss to the Nets, Anthony said the ball-handling duties haven't affected his shot or ability to get good looks. "As far as my shot goes, that's something I'm not concerned about," he said. "Them shots I've been taking, I just now have to do a little bit more with the ball, helping out with the ball-handling and helping out at that position running the offense. "As far as my shot goes, I'm not concerned about that." Six days after the Celtics game,
Anthony admitted that he had been fasting for 15 days
. But he says that's not an excuse for his play in the KG game. "It could've [affected me], it could've," he said. "It's no excuses but during that time I was de-energized and things like that. But I wouldn't use that as an excuse at this point." Anthony said he has no regrets for his actions that night. "I can't live off regrets," he said. "I can't do that. What happened, it happened." The Celtics fans may have something to say about that.
ANTHONY TO ATTEND JERSEY RETIREMENT AT SYRACUSE 
Anthony said he plans to attend the jersey retirement ceremony
at Syracuse Feb. 23 when they face Georgetown. The game is six days after the All-Star Game. "I'm looking forward to that," Anthony, who led Syracuse to the NCAA championship as a freshman in 2003, said of the jersey retirement. "Could be the last Georgetown-Syracuse game, I hope it's not. We need to keep that rivalry up, but I'm super excited about having that jersey retired."