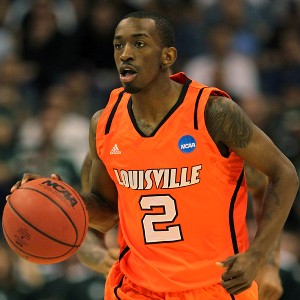 Louisville is the new No. 1 team in the land.
But even Cardinals coach
Rick Pitino
doesn't figure that his club will stay there for the rest of the season. Louisville (15-1) was one of five teams to receive a first-place vote this week. "I think the top teams will play musical chairs for No. 1 for the next two months and it will be really significant at the end of the year," Pitino told the AP Monday, hours
before the Cardinals beat UConn, 73-58
. "We played a tough nonconference schedule and I'm really happy the way our guys have battled through injuries. We'll try to hold the musical top as long as we can." The Cardinals took advantage of losses by Duke and Michigan to move up two spots to No. 1 on Monday in The Associated Press' Top 25 poll. This is just the second time in school history they're on top. The other time was the final poll of 2008-09, a season in which they reached the final eight of the NCAA tournament. Louisville has all the ingredients to challenge for Pitino's second NCAA championship — a veteran point guard in
Peyton Siva
, an explosive off guard in New York's
Russ Smith
, a shot-blocking big man in
Gorgui Dieng
, a powerful big man in
Chane Behanan
 and contributing role players like
Luke Hancock, Wayne Blackshear
and
Kevin Ware.
The Cardinals, who have won 10 straight since losing to Duke in the finals of the Battle 4 Atlantis, received 36 first-place votes from the 65-member national media panel. That's 23 more than Indiana, which moved up from fifth.
Indiana was No. 1 in the preseason poll and for the first five weeks of the regular season. Duke, which was No. 1 for the last four weeks, was third with 14 No. 1 votes. The Blue Devils were followed by Kansas and Michigan, which drew one first-place vote each. Four teams entered the week unbeaten: Duke, Michigan, then-No. 4 Arizona and unranked Wyoming and they all took their first loss. It was the first time three of the top four teams lost in the same week since November 2003, when the top four teams — Connecticut, Duke, Michigan State and Arizona — all were defeated.
FIVE STORYLINES THIS WEEK
1.
UConn
(12-3) is 2-1 in the league after snapping Notre Dame's 12-game winning streak Saturday. Since the 2010-11 season, Notre Dame is 44-2 at Purcell Pavilion, with both losses to UConn. The Huskies have no postseason to play for but appear to be relaxed and motivated under first-year coach
Kevin Ollie
, who recently landed a five-year extension. Ollie is also making waves on the recruiting trail. On Monday,
he landed 6-11 African big man
Amida Brimah.
2.
Syracuse
(16-1) is No. 6 in the nation, is the only 4-0 team in the league and is one of just three unbeatens within the league entering Monday's action. But the Orange were dealt a big blow Saturday when Queens native
James Southerland
was ruled ineligible. Speaking to ESPN on Monday, Cuse coach
Jim Boeheim
called the situation "troubling," but said: "This is something that could be resolved. It is an issue you have to go through and James is going through it." Without Southerland on Saturday, two Orange frosh —
Jerami Grant
(13 points) and
DaJuan Coleman
(6) — combined for 19 points in a 72-61 win over Villanova. 3. New York/ New Jersey teams
St. John's, Seton Hall
and
Rutgers
lost by a combined 38 points in their games this weekend, with the Johnnies leading the way getting hammered by Georgetown by 16 points. Rutgers failed to get to 3-1 in the league for the first time when they fell flat and lost at home Saturday night to Cincinnati by 10. Seton Hall handed Providence its first league win of the season Sunday, losing by 12 points. Johnnies coach
Steve Lavin
was speaking about his game when he made the following comments, but he could well have been speaking on behalf of all three locals: "They took us to the woodshed in all aspects of the game." He added: "Woodshed, got waxed, I don't know how many different ways I can say it." 4.
Marquette
(12-3, 3-0 Big East) continues to fly under the radar, but remains one of just three league unbeatens — along with Louisville and Syracuse. The Golden Eagles are hoping to improve to 4-0 in league play for just the fourth time since the program began conference affiliation in 1989-90. The schedule ahead looks favorable, too, as they play three of their next five at home — beginning Wednesday against Seton Hall.
5.
Georgetown
coach
John Thompson III
told SNY.tv exclusively that he thinks Gonzaga would be a good addition to the new and evolving Catholic 7 league. "They're obviously a great program, great tradition," JT3
said following then-No. 19 Georgetown's 67-51 beatdown of St. John's at Madison Square Garden
. "[Gonzaga coach] 
Mark [Few's]
 done a great job out there. I'd be for that but I don't know whether that's realistic."
WEEKLY HONORS
BIG EAST Player of the Week
C.J. FAIR, Syracuse, F, Jr.
Fair averaged 22.5 points, 8.0 rebounds and 4.0 blocks in a pair of wins for Syracuse to keep the Orange atop the BIG EAST standings. He scored 23 points with 11 rebounds and four blocks in a 72-66 win at Providence and had a game-high 22 points with five rebounds and four blocks in a 72-61 win against Villanova. Fair, who is the third Syracuse player to earn BIG EAST Player of the Week plaudits this season, is averaging 13.8 points and 7.1 rebounds per game this year.
BIG EAST Rookie of the Week
CHRIS OBEKPA, St. John's, C, Fr.
Obekpa averaged 10.5 rebounds and a league-leading 5.5 blocks in two games in which St. John's allowed an average of just 62.5 points. He had 10 rebounds and six blocks in a 67-51 loss to Georgetown, improving his season blocks total to 82 and breaking Walter Berry's single-season school record of 76  set in the 1985-86 season. Obekpa leads the nation in blocks with an average of 5.1 per game.
BIG EAST Honor Roll
SHABAZZ NAPIER, Connecticut, G, Jr.
Averaged 17.5 points, 6.5 rebounds and 2.5 steals in wins against Notre Dame and DePaul.
BRANDON YOUNG, DePaul, G, Jr.
Scored 35 points in a 99-78 loss at Connecticut.
GORGUI DIENG, Louisville, C, Jr.
Averaged 14.0 points and 15.0 rebounds in wins against Seton Hall and USF.
VANDER BLUE, Marquette, G, Jr.
Scored 22 points with four assists in a 74-67 overtime win at Pittsburgh.
BRYCE COTTON, Providence, G, Jr.
Averaged 23.5 points, 6.0 rebounds and shot 65.2 percent (15-of-23) in a 1-1 week.
POWER RANKINGS:
1. Louisville (15-1, 3-0) 2. Syracuse (16-1, 4-0) 3. Marquette (12-3, 3-0) 4. UConn (12-3, 2-1) 5. Notre Dame (14-2, 2-1) 6. Cincinnati (14-3, 2-2) 7. Pittsburgh (13-4, 1-3) 8. Georgetown (11-3, 1-2) 9. Villanova (11-5, 2-1) 10. Rutgers (11-4, 2-2) 11. St. John's (9-7, 1-3) 12. Providence (9-7, 1-3) 13. Seton Hall (12-5, 1-3) 14. DePaul (10-6, 1-2) 15. USF (9-6, 0-3) (The AP contributed reporting)