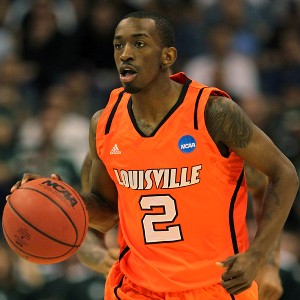 Enjoy Big East basketball while you can.
Because two months from now — after the Big East Tournament wraps up at Madison Square Garden on the night of March 16 — it will cease to ever be the same. Syracuse and Pittsburgh will be gone to the ACC next season. And as many as 10 more schools — the Catholic 7, Rutgers, Louisville and Notre Dame — could well be gone after the 2013-14 season. The latest news on that front —
per ESPN
— is that the Catholic 7 are reportedly in negotiations with Fox Sports on a 12-year TV deal worth $500 million. Under such a deal, the seven schools — DePaul, Georgetown, Marquette, Providence, Seton Hall, St. John's and Villanova — would earn "in the $5 million range" annually, while the three or five new schools would earn "less than half that." Ideally, those schools would depart the Big East after next season's TV deal runs out and start up their new league with a fresh deal. So enjoy Syracuse, Pitt and the others in the Big East over the last two months, because it will never be the same again. With that in mind, here are several storylines along with the first edition of our Power Rankings.
FIVE STORYLINES SO FAR: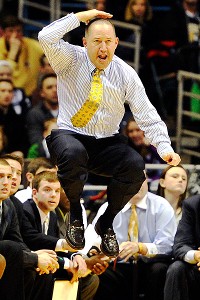 1. After initially being given a one-year deal that was to expire in early April, UConn coach
Kevin Ollie
received
a well-deserved five-year extension that will enable him to recruit more effectively
. Now, what league UConn ends up being in and who their opponents are three years from now, those are other questions entirely.
2. After serving a three-game suspension and being fined $50,000 reportedly for throwing basketballs at his players' heads at some point during his tenure, Rutgers coach
Mike Rice
is 1-1 since his return. On Saturday, the Scarlet Knights secured a much-needed 67-62 home victory over then-No. 24 Pitt. Rice will need to continue to win games and make some kind of postseason run in order to keep his job in Piscataway going forward. Next up is a Wednesday date with St. John's at MSG. 3. Marquette coach
Buzz Williams
served a one-game suspension during his team's OT win over UConn on Jan. 1 because of recruiting violations committed by former assistant
Scott Monarch
. Williams
told ESPN's Andy Katz
he didn't enjoy the suspension one bit. "It was very empty and very depressing," Williams said. "I've never missed a game or practice in my career. I didn't know what I was supposed to do." Williams then returned to the bench to lead Marquette over No. 15 Georgetown, 49-48. The Golden Eagles and Syracuse are the only 2-0 teams in the league entering Monday's action. 4. Louisville big man
Gorgui Dieng
returned from a broken wrist in time to help the No. 4 Cardinals beat arch-rival Kentucky. The 6-11 junior had 6 points and 7 rebounds in the Dec. 29 win and then added 11 points and 11 boards in Wednesday's win vs. Providence. 5. St. John's sophomore
D'Angelo Harrison
leads the league — and ranks sixth nationally — in scoring at 22.1 ppg. Louisville's
Russ Smith
is not far behind at 20 ppg and is probably the early favorite for Big East Player of the Year. Last week's Player of the Week, Smith has hit for at least 20 point in six games for the No. 4 team in the nation.
BIG EAST WEEKLY HONORS:
BIG EAST Player of the Week
BRANDON TRICHE, Syracuse, G, Jr.
Triche averaged 19.3 points, 4.0 assists and 2.0 steals and shot 60 percent from the field (21-of-35) to lead Syracuse to a 3-0 week, including a pair of BIG EAST victories. He scored 25 points on 8-of-11 shooting in a 78-53 win against Rutgers to open conference play and had 20 points in a 55-44 win at USF.  He added 13 points in 23 minutes in a 96-62 win against Central Connecticut. Triche leads the Orange in scoring this season at 15.0 points per game.
BIG EAST Rookie of the Week
RYAN ARCIDIACONO, Villanova, G, Fr.
Arcidiacono scored a career-high 32 points, tying the record by a freshman in his first BIG EAST game, to lead Villanova to a 98-86 overtime win against St. John's. Arcidiacono shot 7-of-13 from 3-point range and was 11-of-13 from the free throw line to match Moe Harkless of St. John's, who scored 32 against Providence in his BIG EAST debut Dec. 27, 2011.
BIG EAST Honor Roll
CASHMERE WRIGHT, Cincinnati, G, Jr.
Averaged 20.5 points and 6.0 rebounds in a 1-1 week. Scored 18 points in a 70-61 win at No. 24/22 Pittsburgh.
DAVANTE GARDNER, Marquette, F, Jr.
Averaged 15.0 points, 6.5 rebounds and 1.5 blocks and shot 60 percent from the field in a 2-0 week.
SCOTT MARTIN, Notre Dame, F, Sr.
Scored 22 points on 8-of-11 shooting (6-of-7 from 3-point range) with five rebounds in a win against Seton Hall.
ELI CARTER, Rutgers, G, So.
Averaged 21.0 points against a pair of top-25 opponents. Scored 23 in a 67-62 win against No. 24/22 Pittsburgh.
D'ANGELO HARRISON, St. John's, G, So.
Averaged 25.5 points and 5.0 rebounds in a 1-1 week. Scored 15 points with seven rebounds in a 53-52 win at No. 14/15 Cincinnati
POWER RANKINGS:
1. Louisville (13-1, 1-0) 2. Syracuse (14-1, 2-0) 3. Notre Dame (13-1, 1-0) 4. Marquette (11-3, 2-0) 5. Cincinnati (13-2, 1-1) 6. Georgetown (10-2, 0-1) 7. UConn (10-3, 0-1) 8. Pittsburgh (12-3, 0-2) 9. Villanova (10-4, 1-0) 10. St. John's (9-5, 1-1) 11. Rutgers (10-3, 1-1) 12. Seton Hall (12-3, 1-1) 13. USF (9-4, 0-1) 14. DePaul (10-5, 1-1) 15. Providence (8-6, 0-2)