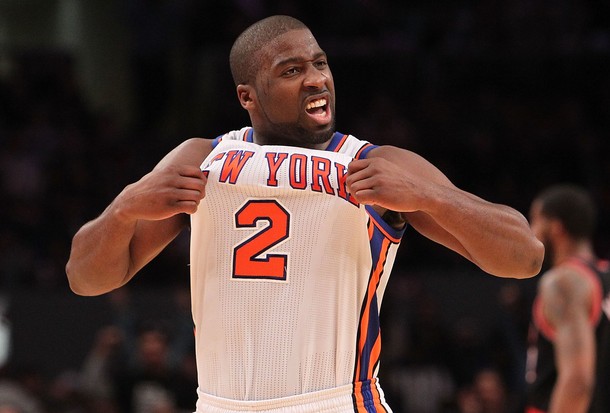 GREENBURGH, N.Y. — Carmelo Anthony
will be a game-time decision for tonight's contest against
Jeremy Lin
and the Houston Rockets, but with or without Melo,
Raymond Felton
says the Knicks "owe" one to the Rockets.
The Rockets hammered the Knicks, 131-103, on Nov. 23 in Houston in a game in which Lin had 13 points and three assists and
James Harden
went off for 33 points and nine assists. "Oh, no question," Felton said Monday after shootaround. "This is the only team that really blew us out this whole year. So we definitely owe them something. Then on top of that we still want to protect our house." The Knicks are a perfect 10-0 at home and are 20-1 at Madison Square Garden under
Mike Woodson.
Anthony sprained his left ankle in last Thursday's win
over the Lakers and then sat out Saturday's 103-102 victory over the Cavaliers. Asked if thought Anthony wanted to play, Felton said, "Oh, no question, no question. If he's able to come out tonight and play, he's definitely going to try it. I know he wants to be there. Never want to sit out a game." Woodson said Anthony — the NBA's second-leading scorer at 27.9 points per game — had not undergone any tests, and only received treatment.
"We don't know with him," Woodson said. "Could be a game-time decision. Don't know yet."
Felton reiterated his belief that Lin — who authored the special chapter in Knicks history last season known as "Linsanity" — deserved a positive reaction from the fans. "I feel like he should get a standing ovation," said Felton, who was brought back to the Knicks in a sign-and-trade with Portland before the Knicks announced they would not match Houston's offer for Lin. "That man did something very special here. He had a great run when he was here so I feel like they should give him a great applause, no question."
Woodson called Lin a "good kid" and "very professional," but said he's concerned with his own team right now. "It was a good run," he said of Linsanity. "We wish him nothing but the best until he plays our team. I'm proud of what we have. That's what I got to focus on. I'm proud of
[Jason] Kidd, Pablo [Prigioni]
and Raymond and the way they've played this year so far. That's what's important to me right now." Felton is averaging 16.3 points and 6.8 assists for the Knicks (18-5), while Lin is averaging 10.8 points and 6.0 assists for the Rockets (11-12). Felton said he is not completely healthy, as he is battling injuries to both hands. "Both of my hands are messed up but whatever," he said. In addition to the previous bone bruise to his left hand, Felton said he also has one in his right hand. "I fell on the floor, just a little bone bruise down here," he said. "It is what it is." Asked if he felt any special motivation going up against Lin, Felton downplayed the one-on-one nature of the game. "I don't get into no one-on-one battles," he said. "I could say that about every night. when I play against any point guard. You can't get into any  one-on-one battles, that's where your game mess[es] up. And that' s when you lose focus of what you're trying to do and the main goal is to win."
WALLACE OUT FOR KNICKS
Rasheed Wallace
won't play because of a sore left foot. "That's all it is at this point," Woodson said. "We're treating it." He said he wasn't concerned long-term. "I'm not really that concerned," Woodson said. "My thing is eventually we'll get everybody back on the floor and then you guys will be saying who's going to play and this and that. That's a good position to be in. It's too early. If he's tender in his foot there is no need in pushing the issue. It's like a marthaon. We got a long way to go."
Marcus Camby
, who hasn't played since Nov. 26,
remains day-to-day with a sore left foot of his own. "He's still therapy work," Woodson said. "The good thing is he's on the floor running. But he's not ready yet."
STOUDEMIRE GETTING CLOSER
Amar'e Stoudemire
 was on the court shooting and appears to be getting closer to making his season debut with the Knicks, but Woodson has no specific timetable. "I think he's moving in a positive way," Woodson said, "Everything is going according to plan. We just haven't had any time to get some practice in. Hopefully we'll practice some and see where he is. Asked if Stoudemire could practice Tuesday, Woodson said, "We'll see. We'll know more tonight after the game."