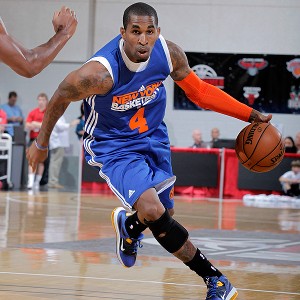 GREENBURGH, N.Y. — Chris Smith
will be courtside on Sunday for the Manhattan-Louisville game at the KFC Yum! Center.
But which school will he be rooting for? "I'm going to actually support both teams," said Smith. The former Knicks shooting guard and brother of Knicks guard
J.R. Smith,
Chris
was waived by the Knicks on Oct. 26,
but is rehabbing his surgically-repaired knee at their facilities. Smith began his college career at Manhattan under former coach
Barry Rohrssen,
but switched midstream and finished up at Louisville under
Rick Pitino
. Smith helped the Cardinals reach the Final Four last year where they lost to eventual national champion Kentucky. "Of course I want to root for Louisville because I graduated from there," Smith said last week. "I've been there for three years. "[But] I root for Coach [
Steve] Masiello
and the Jaspers, my other side of the story. But I don't know too many people on that team. I root for [Louisville] guys like
Kevin Ware
and
Russ Smith
and
Gorgui [Dieng]
and
Chane [Behanan]
and
Angel [Nunez]."
A former Louisville assistant, Masiello took over at Manhattan last season and is now facing his former mentor, Pitino, in the opening game for both teams. "I think it's going to be a very tough game," Pitino, 
whose team was picked unanimously to win the Big East
, told SNY.tv  at Big East Media Day. "Some people may say, 'Look at our rankings.' I know Steve's team. They have a terrific team, they have players sitting out. I don't have any information on his team because he's playing us first game and that's why he's doing it. We're going to be well scouted and they're not going to be well scouted so he's got a major advantage. We got the advantage of playing at home."
Louisville is the No. 2 team in the nation and brings back virtually its entire team from last year, while adding George Mason transfer
Luke Hancock
and former Virginia Tech commit
Montrezl Harrell.
Are they loaded enough to challenge for a national championship? "I think if they start shooting the ball better they could definitely take it," Smith said. As for Manhattan, which was picked second in the MAAC, Smith believes the Louisville game will help them in the long run. "It will be a great experience for them," he said.  "And hopefully that gives them a chance to make the [NCAA] Tournament this year."