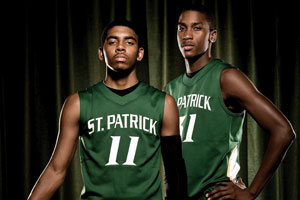 NEW YORK
— St. Patrick High School is a tiny, red-brick Catholic school of about 150 students located in the rugged inner-city of Elizabeth, N.J. Although it was supposed to close its doors for good after this school year due to financial struggles, school officials hope to keep it open by moving it to another, as yet undetermined location in the port city. Yet if you take one look at the NBA Draft lottery in the last two years, you would have a hard time telling that St. Pat's is in any kind of trouble. A year ago, St. Pat's product
Kyrie Irving
was the No. 1 overall pick of the Cleveland Cavaliers and went on to win NBA Rookie of the Year honors. Sometime after 7:30 p.m. EST on Thursday, Irving's former teammate,
Michael Kidd-Gilchrist,
is expected to be chosen within the top three or four picks of this year's NBA Draft, possibly as high as No. 2. At 18, Kidd-Gilchrist is the youngest player in the draft. Appropriately enough, the draft at The Prudential Center in Newark will take place about 7 miles north of St. Pat's on Route 1/9.
WHAT ARE THE ODDS?
So, what exactly are the odds of one tiny high school sending two players to the lottery — possibly as the No. 1 and 2 picks overall, respectively — in back-to-back years?
"You probably got a better chance of getting hit by a bullet [than] that happening odds-wise," former St. Patrick coach
Kevin Boyle
, now the head coach at Montverde (Fla.) Academy, told SNY.tv. "It's just incredible. Even if it was [picks] 1-3, that's just kind of incredible and I think it says a lot about the staff we had at St. Pat's. But it also says a lot about Mike and Kyrie that they had the ability, they had the work ethic and we were just extremely thankful to them for their contributions to St. Pat's over the years." And what do you think, Hall of Fame St. Anthony coach
Bob Hurley
, who served as Boyle's rival for 20-something years? "It's astronomical, you couldn't even calculate it," Hurley said. "To put it in perspective, there are 20,000 high schools that have basketball in the United States. And you're going to have in back-to-back years, a kid comes out of a particular school — and it's not like it's Oak Hill where kids come from all over the country. "It's a school like St. Anthony's where the kids are regional. And it shows a lot about the level of basketball in this area that this has happened." What say you, ESPN college basketball analyst
Fran Fraschilla
?
"
Well, if it happens at any other place besides St. Pat's or St. Anthony's, I'd be surprised and it would be statistically impossible," Fraschilla told SNY.tv.
"But the fact that both guys are coming out of a place where they played at a very high level of high school basketball for a terrific coach in a hotbed like Northern New Jersey, it actually makes sense." "It seems like Kyrie came out of nowhere but once he got to St. Pat's, he certainly jumped onto the national map. "And MKG was always headed in that direction anway. So their bloodlines from St. Pat's to Duke and Kentucky and now off to the lottery, actually it all makes sense." What do you think the odds are, St. Pat's principal
Joe Picaro
? "I think that it's almost impossible," Picaro said. "So the odds of it are astounding. And think about this, though, you also have
Al Harrington
and
Sam Dalembert
[in the NBA from St. Pat's] and there's only about, what, 400 people that play in the NBA? [450 actually] And if you take 4 into 400 I think that's 1 percent of the players in the NBA from one little school."
"I'm so happy for the players," Picaro added. "They deserve it. You know how Mike and Kyrie are, their personalities and what good people they are, so for them to be 1 and 2 [potentially] in consecutive years is certainly an indication of how well the program developed good players and good men."
DIFFERENT PATHS TO ST. PATS
The son of former professional player
Drederick Irving
, Kyrie transferred to St. Pat's midway through his high school career from Montclair Kimberley and soon exploded onto the national scene. After Irving, Gilchrist (as he was then known) and current North Carolina guard 
Dexter Strickland
 led the Celtics to the 2009 New Jersey Tournament of Champions title, Boyle told SNY.tv that Irving had the potential to be the best guard ever to come out of New Jersey. And that's a group that included 
Bobby Hurley, Jay Williams
and
DaJuan Wagner.
"I think he needed a little push," Boyle said of Irving. "I think him being at St. Pat's was very good for him. He needed to get with other good players to try and start understanding, 'Hey, you gotta take over. You gotta step up. You gotta be more assertive. You can't sit back and wait for things to happen. You're too talented. You're too gifted. The plays have to go through you." After an injury-shortened season at Duke, Irving went No. 1 in last year's draft and soon paid the Cavs back with a rookie season in which he averaged 18.5 points and 5.4 assists and was the lone unanimous choice for the All-Rookie Team. After Irving left St. Pat's in 2010, Kidd-Gilchrist took over the mantle. "Mike was able to take over that spot the folowing year and show some great leadership," Boyle said. Kidd-Gilchrist made a daily 154-mile commute from his home in Somerdale, N.J., to Elizabeth, leaving home with his mother,
Cindy Richardson
, at 5 a.m. each morning and arriving back home at 8 p.m.
As part of his daily life at St. Pat's, Kidd-Gilchrist 
received daily therapy for his stutter
, which is now much improved and allows him to speak more comfortably in public. "That was my life," Richardson told the Philadelphia Inquirer of the commute. "But he was so happy. When you see a kid happy and being positive, you can't say no." Kidd-Gilchrist went to Kentucky and helped a team loaded with freshmen and sophomores win
John Calipari's
first national championship. Six players from that team are expected to be drafted on Thursday. "Michael definitely gets it," Calipari told the Philly Inquirer. "Before the SEC championship game, he asked if he could come off the bench because he thought Darius Miller might play better if he started. He's an unselfish kid with a great, great work ethic."
THE TENUOUS FUTURE OF ST. PAT'S
While Irving and Kidd-Gilchrist are emblems of St. Pat's successful past, the school's future remains in serious doubt.
Picaro said the school is attempting to move to another location, either Kean College or another undisclosed location in Elizabeth, even as enrollment has dropped by more than 100 students in the last five years. "We don't have an address yet but we're definitely going to be open in September," Picaro said. "We've had registration going on and if people are interested they need to hurry because we think we're going to have a waiting list." Asked his thoughts on his school's attempt to stay open, Kidd-Gilchrist said at the Final Four in New Orleans: "I was raised there basically, but yeah, it's going to mean a whole bunch for me and Kyrie and stuff like that [if it stays open]. It's going to mean a whole bunch." While St. Pat's attempts to stay afloat, two of its most successful products are keeping the school's name prominent as potential future stars in the NBA. And it's even possible they could end up being teammates if Kidd-Gilchrist falls to the Cavaliers at No. 4. "Kyrie's a very good pro and he's going to be a great pro," Boyle said. "And it wouldn't shock me if they're both in the All-Star game together one day." *** Photos: ESPN, The Star-Ledger