Bob Hurley
has coached at St. Anthony for 40 years and won 27 State titles and 12 New Jersey Tournament of Champions crowns.
After Tuesday night's 66-62 victory over Plainfield in the TOC final, Hurley has now led seven teams to undefeated seasons, according to Jim Hague, St. Anthony historian and journalist at the Hudson Reporter. In four of the previous six unbeaten seasons, the Friars won a USA Today mythical national championship. But this year, for the third time, St. Anthony won't win the mythical national title. That's because Oak Hill Academy in Mouth of Wilson, Va., completed its season 44-0 and is
ranked No. 1
in
both the USA Today and ESPN polls
. Findlay Prep (29-1) is currently No. 2 in both rankings and St. Anthony is No. 3 in both. "I hate to blow your bubble on this one but I really don't care," Hurley told SNY.tv in a recent interview. "All I'm interested in is The Star-Ledger poll in New Jersey given out to the No. 1 team in the state at the end of the year. If you do really well in the Ledger poll then you've had a really good year. "The rest of the stuff is so subjective that I'll leave it up to the people who have been able to take 20,000 high schools and rank them in the country. I know I couldn't do that. I know in our state it's a little bit easier." High school basketball is subjective the way college football and the BCS are. Unlike the NCAA Tournament in college basketball, there's no all-inclusive tournament that features all the top teams. Thus, there's simply no ironclad way to determine the true national champion.
St. Anthony is also 
No. 1 in the MaxPreps poll
, meaning they could potentially receive a national championship banner from that company. Five Star Basketball, which includes both prep schools and four-year high schools in its poll,
has the Friars at No. 4
behind Oak Hill, Brewster Academy, a prep school that includes fifth-year players, and Findlay Prep. (Full disclosure: I am a consultant for Five Star, but don't formulate the rankings.) For the first time in school history, St. Anthony has completed back-to-back perfect seasons — going 65-0 across two campaigns under the leadership of UCLA-bound point guard
Kyle Anderson.
St. Anthony previously won mythical national titles as awarded by USA Today in 1989 (32-0), 1996 (31-0), 2008 (32-0) and 2011 (33-0). Last year they also received a national championship banner for finishing No. 1 in ESPN's Powerade Fab 50 rankings.
"I've been coaching for 40 years here and I don't know of another team ever having back-to-back undefeated seasons," Hurley told The Ledger after Tuesday night's win. "That's saying something because we play some pretty good basketball in this state."
Bobby Hurley
, who the 1989 TOC with St. Anthony and then two NCAA titles at Duke, says this team ranks with any of the previous ones because Anderson is so special. "Any time you have a player of Kyle Anderson's caliber and what's he's accomplished individually I think the record speaks for itself," he said. "I think they played great competition. They've been perfect so they would certainly I would assume rank with the best teams, my team in '89 and some others that St. Anthony's has had. I'm happy for the kids and I'm happy for my dad , all the work that they've put in." While Findlay Prep
still has to compete in the ESPN National High School Invitational
later this month, they cannot erase the one loss they have. In fact, all eight teams in that event — including Newark St. Benedict's Prep — have at least one loss on the season. The one team that will finish the season unbeaten and with more wins than St. Anthony is Oak Hill, which won a school record 44 straight games without a loss.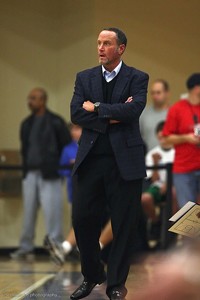 The Warriors
recently completed a tour of China
and elected not to play in the ESPN event.
"I think what we've done speaks for itself," Oak Hill coach
Steve Smith
told SNY.tv recently. "If polls want to rank us [No.] 1, obviously that's great for our school and our team and if they choose somebody else that's up to them. "We played 10 teams in the Top 50 so I don't think anybody else has done that." Smith, whose teams have competed three times in the ESPN event but never won it, conceded it's difficult to come up with a system that accurately determines a mythical national champion. In that way, high school basketball does mimic the BCS poll in which an unbeaten team from a non-BCS conference can sometimes get left out of the mix for a national champion. "I don't know," Smith said. "It's hard to do that. All the states are involved and the state high school associations are involved. Some teams are playing in the NHSI, the ESPN tournament, some teams can't. I don't know. "It's hard to get it all uniform. Obviously, you're proud when your teams finished No. 1 in the country." Photo: Tim Farrell / NJ.com