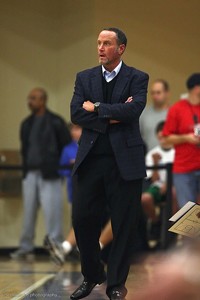 In any other year, Oak Hill coach
Steve Smith
would be happy to take his team to the ESPN National High School Invitational in North Bethesda, Md.
But not this year. That's because Smith is taking the Warriors (43-0) — who are No. 1 in the ESPN poll and No. 2 in the
Five Star Power Rankings
— on a basketball tour of China that runs March 7-19. Oak Hill — which has produced a slew of NBA players, including
Kevin Durant, Carmelo Anthony
and
Rajon Rondo
— will return before the NHSI runs March 28-31, but Smith said his team will be too wiped out to prepare for the event and Oak Hill President
Michael Groves
wasn't "keen" on the players missing any more school. If Oak Hill wins its final game Tuesday, they would end their season at 44-0, the most wins in the storied program's history. "The guys all want to go to China," Smith, the Naismith High School Coach of the Year, told SNY.tv Monday. "They're excited to play international competition. They're excited to go to China and see another culture." The current Oak Hill team features Georgetown signee
D'Vauntes Smith-Rivera
, N.C. State commit
Tyler Lewis
, UCLA signee
Jordan Adams
and Memphis-bound
Damien Wilson
, among others Oak Hill has never won the three-year old NHSI and has twice lost in the finals, including last year to Montrose Christian (Md.). Montrose will return this year, as will Henderson (Nev.) Findlay Prep, Newark (N.J.) St. Benedict's Prep, Montverde (Fla.) Academy, LaPorte (IN) La Lumiere and the winner of the Florida Tournament of Champions, industry sources told SNY.tv. It remains unclear who the other two teams will be.
"We talked about it [the NHSI]….We played in it three years in a row," said Smith. "We'd have to miss two days of school to go to that. My president wasn't keen on that." Smith last took a team overseas in 2004 when Rondo and 
Josh Smith
 were on the club that went to Barcelona. "That was a great experience, they loved it," Smith said. "When I see those guys, that's like the highlight of the season. That's all they talk about." In China, Oak Hill will play a Chinese team as well as 18-and-under National Teams from Australia and Lithuania. "We play each team three times in three different cities [Guangdong, Fujian and Jiangxi], which will be fun because we'll see different parts of China," Smith said. The trip is being funded by the Chinese National Team. "Their National Team in China is basically footing the bill for all these other teams," Smith said. "For our team to go over there and play it's costing them $50,000. You're talking airline tickets for a party of 15. We're in five-star hotels. They're flying us around over there. It's at least $50 grand per team. "They obviously have the backing financially and they want basketball to grow. It's a very popular sport in China. Nike is big in China. Nike basketball has something to do with the event." Oak Hill is headed to China at a key time. Several NBA players including
J.R. Smith
of the Knicks,
Kenyon Martin
of the Clippers and former Knicks and Nuggets forward
Wilson Chandler
played this season in China.
NBA deputy commissioner
Adam Silver
said over All-Star weekend in Orlando the league is in discussions about playing preseason games next season in China, perhaps in Shanghai, where former Houston All-Star
Yao Ming
owns the Chinese Basketball Association team. Yao has also been advising Knicks guard
Jeremy Lin
, whose parents are Taiwanese but whose grandmother has roots in China. Lin has said he plans to return to Taiwan this summer to help grow basketball there. "With Yao Ming and all that, it's kind of growing," Steve Smith said, referring to basketball in China. "And then you've got Jeremy Lin, who's not really from China but he's got some Chinese in him so he's like a cult hero over there the last couple weeks more than even he is in the U.S. "Their basketball is growing, they're excited." And so are the Oak Hill players.