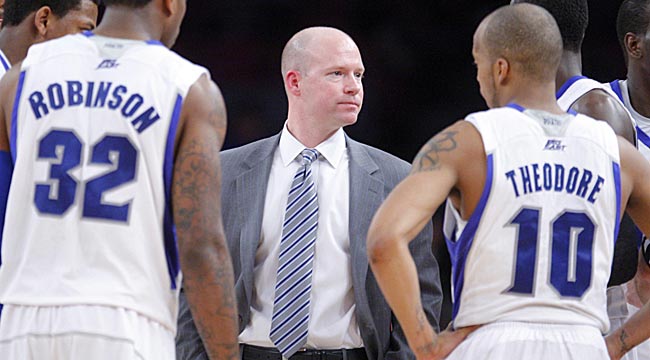 NEWARK —
Seton Hall coach
Kevin Willard
was hired two years ago to clean up the mess left by
Bobby Gonzalez
and to rectify the program's sullied image. To Gonzalez's credit, on his way out the door he did leave Willard arguably the team's three best players in
Jordan Theodore, Herb Pope
and
Fuquan Edwin.
Now, nearly two years since Willard was brought aboard an unsteady ship, he has the Pirates on the brink of their first NCAA Tournament since 2006 and the man who hired him says Willard is well ahead of schedule. "When I met him and we spent time together, I knew he was the complete package,"
Pat Hobbs,
Dean of the Seton Hall School of Law, told SNY.tv. "He was a guy who could manage kids off the floor, on the floor, great passion, he brings knowledge of the game. He brings the recruiting. He is the complete package, he's done a great job. "Are we a little bit ahead of where I think a lot of people expected us to be? I think there's no question." Entering Saturday's tilt against Garden State rival Rutgers, Seton Hall is 19-9, 8-8 in the Big East. After Rutgers, they visit DePaul March 3 and with two wins would be 10-8 in arguably the toughest basketball conference in the land. Willard was initially warned by his mentor,
Rick Pitino
, not to leave Iona for Seton Hall, and Willard has conceded he had some qualms about taking the job. But once he did, even he agreed with Hobbs' estimation that Seton Hall is further along than what he expected. "I think everybody's happy when they're winning games," Willard said. "That's the goal every year, to kind of be relevant in March and give your team a chance. If I said that it's happened much quicker, yeah it's happened probably three years quicker than I thought it was going to happen. "Now that it is, we've gotta try to take advantage of the opportunity." Still, Willard admits he's concerned that his seniors — Theodore and Pope — might be a little too amped up for Saturday's "Senior Night" festivities against Rutgers (12-16, 4-12), always a dangerous team despite losing six straight. "What makes it tough is it's Senior Night," Willard said. "I think it's really hard to play well on Senior Night  because your seniors are a little bit more jacked up and you want to do so well for your seniors." Despite all the anxiousness surrounding the game and what's ahead, Hobbs said Willard is pleased that he's got his team in a position to go dancing. "It's satisfying [for Willard]," Hobbs said. "He came in and inherited a program that was in a lot of trouble, with kids that didn't know him. He hadn't recruited them. Some kids thought about leaving. You tell those kids, 'Look, trust this guy, work with this guy and it's going to pay off for you' and now you ask one of these kids if they think about leaving this program, they want two more years. They want to see where are we going to be two years from now." Theodore admits that he considered leaving two years ago because he felt some allegiance to Gonzalez and didn't know much about Willard. It was only after Iona point guard
Scott Machado
, who enjoyed playing for Willard, spoke with Theodore,
did the Paterson Catholic graduate agree to stay.
"Oh, yeah, I definitely thought about transferring," Theodore said last week. "Of course. Especially, I didn't know who Coach Willard was coming in. I heard about him through my boy Scott Machado. He told me he was a good guy, man, he told me to stay." Willard's tenure hasn't been smooth and easy. Last year began with Pope collapsing during a workout in Walsh Gym due to a heart abnormality and ended with Willard dismissing two Gonzalez recruits —
Keon Lawrence
and
Jamel Jackson
— from the team. Now, nearly two years after Pope collapsed, he, like Theodore, can taste an NCAA Tournament bid but he knows there's work still to be done. "This is a rivalry, this is a must-win for me Senior Night," Pope said. "Last year we sent our team off on a good note. I want to be a sent off on a good note, so everybody gotta be focused for everything." Pope himself has nearly died twice in his life, once when he collapsed and was rushed to the hospital and once when he was shot five times in high school during a party in Aliquippa, Pa. When he transferred in from New Mexico State, he was considered another Gonzalez risk. But this one has paid off, and now Pope is close to the finish line. "I'm ecstatic to say that, 'Hey, this is my last home game and I'm trying to go out with a bang,'" he said. And the coach who came in to quiet a swirling storm wants them to go out that way, too. Photo: CBSSports.com