So today I pulled my first all-nighter since, I don't know, those hazy, crazy Wesleyan University days, I guess. Here's a quick rundown of nearly 24 hours worth of hoops, tennis and energy drinks:
9:45 a.m. Wednesday
— Hop on a bus at 15th St. with 3-year-old
 James Zagoria
and head uptown for Super Soccer Stars. Little man kicks a goal and looks good doin' it.
11 a.m. –
– Knowing I'm supposed to appear on SNY this weekend for the SNY Invitational, I go for a haircut to my man Marcos at
Carlo Marco Studio
 in the West Village
Noon
— After walking home crosstown, cook up some frozen Trader Joe's chicken burritos and transcribe interviews on 2013 stars
Kris Jenkins
and
Julius Randle
2:15 p.m.
— Pick up my man Jeff Goldman of SNY.tv and head out to St. Benedict's Prep in Newark for an upcoming video project on 2013 point guard
Tyler Ennis.
Ennis is mulling Arizona, Louisville, Kansas, Syracuse and Georgia Tech, among others.
3:15 p.m.
— Interview my guys Ennis, Miami-bound SG
Melvin Johnson
and 2013 forward
Isaiah Watkins
for the video project
6:21 p.m.
— Sit in the stands and watch St. Ben's frosh
Isaiah Briscoe
throw down a one-handed dunk. Remember the name: Isaiah Briscoe.
6:30 p.m.
— Drive to New York and park across MSG for the West Virginia-St. John's game (Parking ended up costing $42. Doh!)
7:34 p.m.
— Sneak down to Penn Station and buy a quick salad before entering MSG
8:18 p.m.
— Bust out a quick blog on
Fab Melo
being out for "a while," per the Post-Standard
8:42 p.m.
— Bust out another blog on
Derrick Caracter
to the D-League
8:56 p.m.
— Can't help but chuckle as St. John's student section, feeling their oats in a blowout, chants,
"Big 12 sucks"
at West Virginia
9:46 p.m.
— Listen to
Bob Huggins'
highly entertaining postgame presser after his team was crushed, 76-62,by the Johnnies. "
They played well. They played well, and we sucked."
So both the Big 12
and
West Virginia sucked on the same night.
10 p.m.
— Stop off on way home at my nearby bodega for a 5-hour energy drink, my first ever
10:15 p.m.
– Turn on the
Kim Clijsters-Victoria Azarenka
Australian Open semifinal and settle into my home "office"
10:47 p.m.
— Post the
Huggins blog
after transcribing the interview
11:14 p.m. –
– Inhale first half of the 5-hour energy drink
11:37 p.m.
— Post a blog on
Rafer Alston
returning to the D-League
12:15 a.m.
— Begin writing a feature on
Julius Randle
for FiveStarBasketball.com
1:37 a.m.
— Finish up Randle feature and email it to my boy
Peter Robert Casey
, the man with three first names and one passion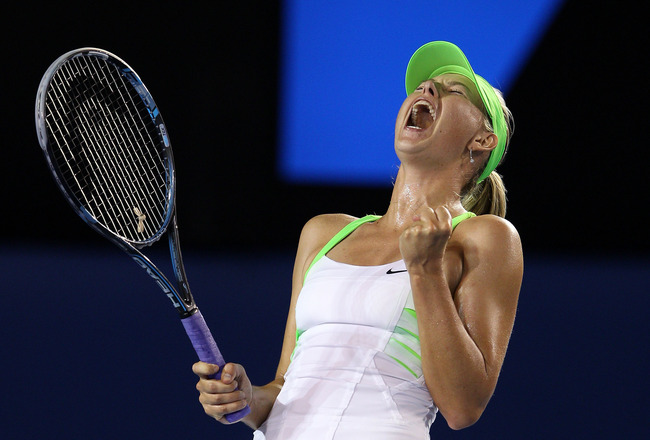 2:27 a.m. — Maria Sharapova
defeats Wimbledon champ
Petra Kvitova
in three sets, setting up an awfully loud, grunt-filled final against Azarenka. Sharapova is 3-2 in Major finals. Azarenka is in her first Slam final.
2:30 a.m.
— Realize I still have an hour to go before Federer-Nadal. Turn on recorded "
Courtside With Seth Davis
" so
Seth, Gary Parrish
and
Jim O'Connell
 and the boys (where's Goodman?) can carry me through to the tennis
2:37 a.m
.– Laugh when I see that 5-hour energy is a sponsor of Seth's show
3:10 a.m.
— With 20 minutes before Federer-Nadal, I take another swig of 5-hour energy and watch Seth Davis interview my man
Jonathan Givony
about 2012 Draft prospects
3:36 a.m.
— My daughter,
Grace
, emerges from her bedroom and says, "Hi, Dad." Takes one look at the clock, says "Oh, my God," and heads back to bed.
3:40 a.m.
— Tweet: "If you're not awake now and watching this match, you're not a real tennis fan. You're some kind of poseur if you are watching this taped."
5:13 a.m.
— TV ad: "5-hour energy. When you gotta get stuff done."
Also 5:13 a.m
. — Fireworks in Australia. Fed down 5-2 in 2nd set and not looking pleased with the break.
7:12 a.m
. — Kids are awake, family watching together
7:21 a.m.
— Fed saves match point.
7:26 a.m.
—  Game, set, match. Nadal wins 6-7, 6-2, 7-6, 6-4. He's now 18-9 overall against Fed and 8-2 in Majors. "It's just amazing, it's fantastic to have one player in front of you," Rafa said. "The only thing I did all my career is I keep learning because I always saw in front of me one player better than me."
7:27 a.m.
— Time to start all over again.