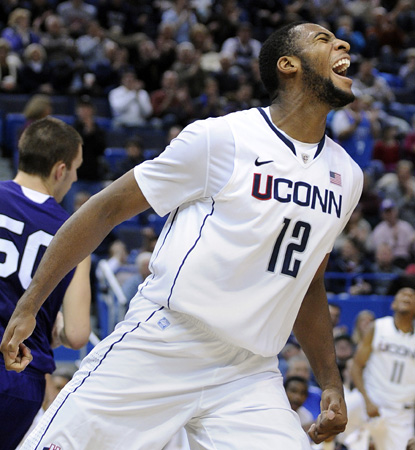 PISCATAWAY, N.J.
— Despite being projected as a lottery pick in the 2012 NBA Draft, UConn freshman
Andre Drummond
said he plans to return for his sophomore season.
"As of right now, I know I'll be back," he told SNY.tv exclusively following No. 8 UConn's 67-60 loss to Rutgers Saturday. "That's all I could tell you, I'll be back." Even if you're a Top 5 pick? "Yeah, I'll be back," added the 6-foot-11 Drummond, who tallied 10 points, 12 rebounds, seven turnovers, two blocks and one highlight-reel dunk in which he took off eight feet from the basket and flushed it. Eight NBA scouts were at the game, including Lakers GM
Mitch Kupchak
and Charlotte Bobcats GM
Rich Cho. 
Still, Drummond said he wants to continue to develop under head coach
Jim Calhoun
, who has produced a long line of NBA big men, from
Emeka Okafor
to
Jeff Adrien.
"Playing under Jim Calhoun's wing, it's going to be great," Drummond said. "I'm trying to be here just to be a great basketball player and get better as a person and he's the guy to do it." Drummond could, of course, change his mind after the season ends but for now he says he won't. "No, I'm just going," he said. "I'm just playing my basketball right now. I'm not really thinking about the future. I'm just trying to win a national championship and a Big East championship." Drummond is playing this year as a walk-on after
Michael Bradley
offered to give him his scholarship once Drummond joined the team in August. "I was paying for school since I came," Drummond said. "And he offered to give it to me, I told him 'No' but nobody ever knew about it."