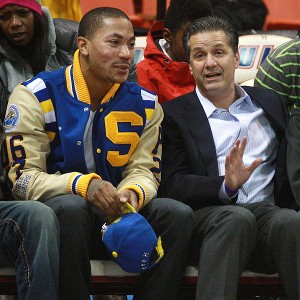 Both Kentucky coach John Calipari and Louisville coach Rick Pitino were on Thursday to watch Chicago Simeon star Jabari Parker and his Chicago Simeon team beat Jahlil Okafor and Whitney Young.
Considered by some the top prospect in America regardless of class, Parker had 15 points, nine rebounds and four blocks to help Simeon win, 62-55, at the UIC Pavilion.
Chicago Bulls point guard Derrick Rose, who played at Simeon and then for Calipari at Memphis, was also on hand.
Parker, a 6-foot-7 junior small forward, is being courted by  Duke, Kentucky, Michigan State, Kansas and Illinois, among others.